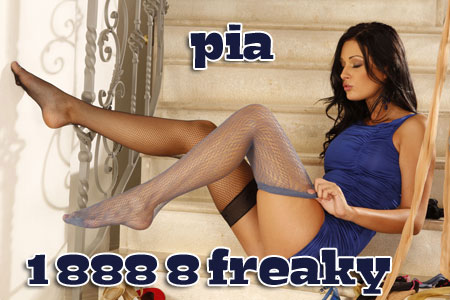 As you can tell from my pictures, I'm all about shoes, stockings, and pantyhose.  I love putting on sexy pair of stockings, pulling them up slowly and sensually from my toes to my thighs.  I run my hands over the soft nylon and feel the skin of my legs tingle.  It's like electricity shooting through my body.  When I finally slide my stockinged foot into my high heel shoe, the experience alone is nearly orgasmic. Now I'm ready for pantyhose fetish phone sex.  Are you?  Have your panty hose
ready when you pick up the phone.  I want to listen to you put them on.  If you love them as much as I do, you'll be moaning with pleasure as they slide up your legs, one at a time.  Very sexy.  When you're done we'll both be ready to satisfy the desires we've built up putting on our hosiery.
Even though I'm wearing thigh highs, I want you in pantyhose.  I love the way it traps your cock tight against you.  I'll make you rub the hard bulge through your nylons until you're begging me to let you stroke it.  You won't until I'm ready to let you.  I'll have you rip a hole in the front to let your dick out…yes, I said rip it!  Good boy.  I'm going to direct you every step of the way up to a mind blowing orgasm.  That's what pantyhose fetish phone sex is all about.  Feeling so sexy and feminine, and getting off in the end.  I'm not sorry I made you tear your pantyhose.  It was worth it.  Don't forget to swing by the store and get another pair for our next pantyhose fetish phone sex call.
Come on baby, let's play together in our hosiery.  I can't wait for you to give me a call.  Dial 1-888-8-FREAKY and ask for Pia for pantyhose fetish phone sex.
Yahoo:  Sassypia
AIM:  sassypia4u