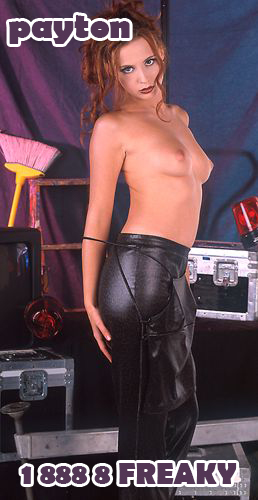 The first time a boyfriend spanked me stands out clearly in my mind. The outrage and humiliation combined with . . . what? Could it really be arousal? Could I really enjoy being turned over a man's knee and spanked? If you give me a call for some hardcore spanking phone sex, you'll find out just how much it turns me on.
He was older. Like most of my boyfriends. I hadn't meant to flirt with the pool boy, honestly, but I guess it looked like I was. I could see by his face when I came back in that I was in trouble. "What the hell do you think you were doing out there?" he said. I stammered in confusion, no idea what he meant. "If you're going to act like a slut, I'm going to have to punish you," he said. I tried to apologize, but he said I had to learn my lesson. He sat down on the sofa and commanded me to lay face down over his lap, because he was going to give me a spanking.
I couldn't believe it! Was he seriously going to give a big girl like me a spanking? But he made it clear that he was not joking around, he was upset, and I was going to take it like a good girl. I didn't know what to expect when he turned me over his knee, but I was definitely about to find out. He lifted my skirt, and began caressing my ass as he explained to me that I had behaved like a filthy slut, and I deserved to be taught a lesson. He said that he would teach me how to be his good girl. I was trembling all over with anticipation of the pain, feeling completely humiliated, and I relive it every time I get a spanking phone sex call.
He lifted his broad, hard hand, and when I felt it slam against my creamy round ass cheeks, I yelped from the tingle. It definitely hurt, but there was something else. . . . a kind of zing that went from my poor offended bottom straight to my. . . well, you know. I felt tears fill my eyes, as his hand crashed down on my gorgeous butt again, and he told me that I was a dirty whore. He kept spanking, harder and harder, asking again and again if was going to be a good girl, if I had learned my lesson. I could feel his cock growing hard under my tummy as he turned my pretty round ass bright red. I cried and begged, because it really did hurt, but at the same time my pussy got wetter and wetter. He finally noticed that it was all puffy and pink and juicy. "Are you turned on from your spanking, you trashy slut? Do you like it when I hurt you?" I tried to protest, sniffling, but my rock hard nipples and the juices running down my thighs made it all too obvious. I couldn't help but moan as he slid two fingers into my dripping cunt.
Would you like to know how this spanking phone sex session ended?  I'll tell you all about it. Just give me a call, and play with Payton.
AIM: PlayWith_Payton
Yahooo: PlayWithPayton