Oh my! You've been a very naughty boy!!! Ms. Beth needs to put you over her knee and give you the punishment you deserve! Pull those pants down, dial my number, bend over, and get ready for some super hot spanking phone sex! I'm going to make your ass cheeks red and hot, and if you don't show me how sorry you are for your naughty behavior, I'll make sure you can't sit your ass down for at least two days. If you take your punishment well, I might let you hang that hard dick down into my lap, between my strong, sweet thighs while I squeeze them tight on that cock. I love to give an over the knee, bare hand to bare cheek spanking, because my hand is my favorite paddle.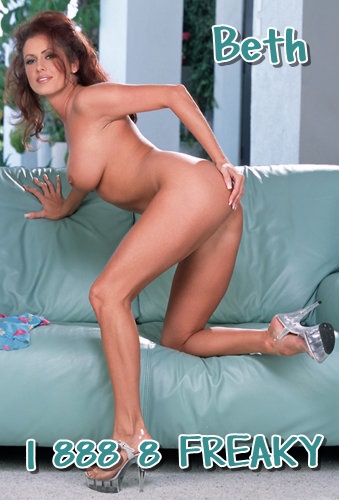 My hand is not my only paddle. I have lots of nasty things in my bag of tricks. A wooden paddle with an evil smiley face laser etched in one side so it plants that smiley face on your ass like a brand, or how about one with fur on one side and leather on another so after I sting you with the leather I can tickle you with the fur? Call me for spanking phone sex and you can pick which paddle you'd like me to use. Maybe I'll use that one. Maybe I won't. I also have crops and floggers galore, but what I really like to use are household objects like wooden spoons, rubber spatulas, and paddle brushes, all of which I have a nice assortment of in my toy bag. Tomorrow I'm going to a kink party where I'll get to spank the ass of a hot female friend of mine, so call me for some spanking phone sex and you can hear all about it!
Call 1 888 8 FREAKY and ask for Beth for spanking phone sex!
AIM: Beth_cumsxxx
Tumblr: bethcumsxxx4u