Mmmmm… cum fetish phone sex – warm, white, wild, wet, WONDERFUL!! Lots of people ask me, "Miss Vienna, may I ask you something personal?" Of course, I always say, "No," first because I'm a very private girl. Some people ask a second time, and I just roll my eyes and walk away, and a few of them get the hint. But it's the ones who keep going who always ask the same thing: "What's cum fetish phone sex?" And each time, I turn and smile because I am the motherfucking cum fetish phone sex queen.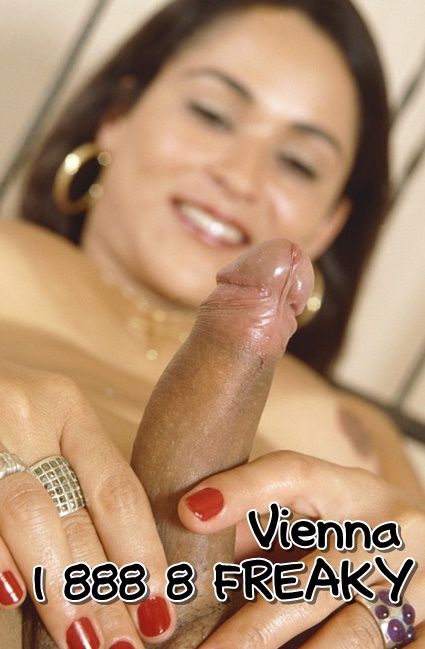 Cum fetish phone sex is an art, my pets, a specialty niche not for the fainthearted (and definitely not for anyone nervous about spending days on end with sticky, glazed faces or crusty, matted hair and a wild look of unquenchable desire in their eyes). Not many people know that some trannies cum waaaaaaaay more after they grow their tits, but it's true. I used to be able to spray some fapple juice maybe once every few hours, but now, it's a few times every hour, and it's sooooooooo sweet and creamy that you'll want to put it in your coffee – and I may just allow you to do that after I fill your tight, nervous gerbil cage with buckets of my hot, squirming drain babies. Here – let me put your cup under your ass and squeeze. There you go! One lump or two?
In the bedroom, under the kitchen table, in your car on your lunch break, up in the choir loft at church, hidden down low in the back seat of the bus, or kneeling in the shadow of the dumpster behind McDonald's – you don't care where; you just want – NEED – Satan's sangria!! The setting doesn't matter, as long as his (or her!) creamy nut is shooting past your uvula and filling your belly with a comfort and joy that Mom's home cooking can never match! Let Miss Vienna share her tips from years of sampling testicular meringue from all over the globe and teach you the secrets and delights of cum fetish phone sex!
Call 1 888 8 FREAKY and ask for Vienna
AIM: vixen_vienna4u