Hi there horny fellas! How's about a nod for the sexy new gurl! Yep, I'm Lydia and I'm happy to be here because I just love having shemale phone sex with all the guys out there who are feeling like they really want something a bit different from the normal giggling girly girl. Something exciting and different from the usual fanatasies. Something that explores their deepest, freakiest desires. Something, well…..something named Lydia – the gurl who has it all!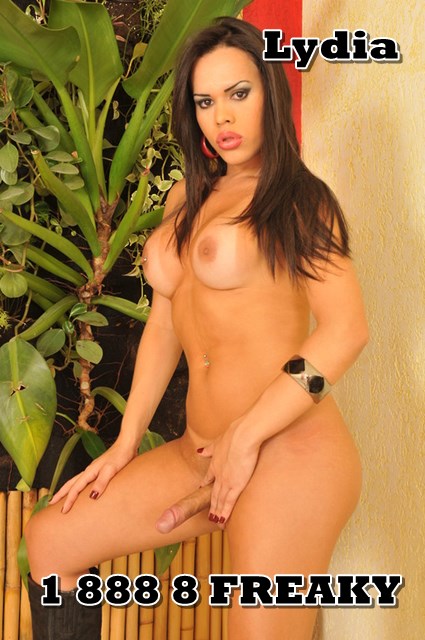 Yeah, that's me – the gurl who has everything. I'm sexy, curvy, dark, and mysterious. When you call me for shemale phone sex and you get to know me, you'll find out that I'm both hot and cool at the same time. And, like a Swiss army knife, I've got all the tools you'll ever need, all in one perfect package! If you're in the mood to look down at a beautiful face while a hot set of lips is wrapped around your cock, warm and wet, tongue teasing and tasting all of your savory meat, then call on Lydia. If you need a hot ass to smack with a nice tight hole to pound while you're holding me firmly in place by my hips – that's a call for Lydia.
We all know the part you want the most, the whole reason you're even reading this. You want to walk on the wild side and try something new. You fantasize about getting on your knees and sucking cock, but you want to do it while you look up at these perfect tits and this pretty face. You want to lick balls that hang just a few inches above the pretty lace trim on the top of my thigh high stockings. You want to feel my long hair tickle your back and my long nails dig into your hips while I make your tight ass my own fuck toy.
Yeah – you know you want some of this. Don't deny it anymore. Call 1 888 8 FREAKY and ask for Lydia!!
Tumblr: Lydiassecretxxx
Twitter: @LydiasXxx
Google Hangouts IM: lydiassecretxxx@gmail.com
TextNow texting app: lydiassecretxxx