Guys like you always think you deserve whatever you want. You think you can hit on a girl like me and have me eating out of the palm of your hand. You think you deserve to go home with me and do whatever you want to do with me, don't you? You even think that I OWE you an orgasm just because you're turned on by looking at my gorgeous body. Well, you're WRONG. The only thing I owe a guy like you is a nice long orgasm denial phone sex call.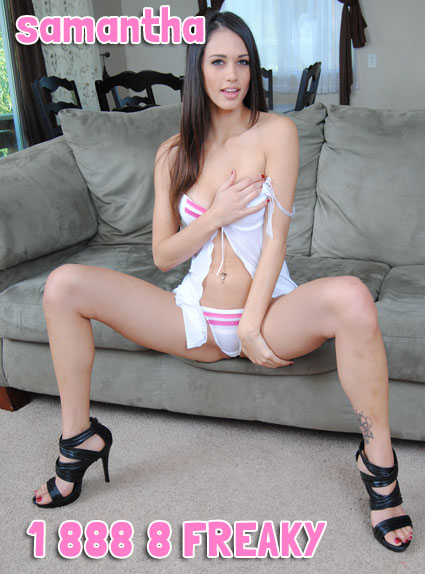 Haven't you figured out by now that women run the world and you're just to be used for our entertainment? What matters is what I want. And what I want is to get you all hot and bothered and then deny you the one thing you want the most. I know that you want to cum on me or in me, but you're not going to get to. You're not going to get to cum at all, so you might as well forget it.
How am I going to get you hot and bothered? Oh, I don't know. I haven't decided yet. But trust me when I say that your dick is going to be so hard it's throbbing. I want you to leak that pre-cum and I want you to beg me to let you cum. I love it when a man begs because that's the moment that he realizes he's not in charge anymore – I am.
Are you ready for your orgasm denial phone sex call yet? I know that I'm more than ready and I can't wait to deny you over and over again. Will I ever let you cum? Who knows. I guess you'll just have to call me and see. Dial 1 888 8 FREAKY and ask to talk to Samantha
!