You are one of those guys, aren't you? The wimpy kind that loves to watch as a girl like me gets used by a man with a much bigger, nicer cock than you could ever dream of having. You ache to hear me scream about it, and tell you how fucking pathetic yours is, don't you. That's right. I know your secret isn't all that hard to figure out. The fact that you are a cuckold phone sex slut is super aparent to someone like me, who can spot the signs a mile away. The quiver in your lip every time you are near a woman like me. The fact that your eye follows those guys that look like they have bigger cocks. The fact that your eyes get huge, and follow each black man that comes anywhere near you. I can see you bite your lip, and your eyes wander to their package to see if you can get any indication of how big they may be, and how much they may stretch me out.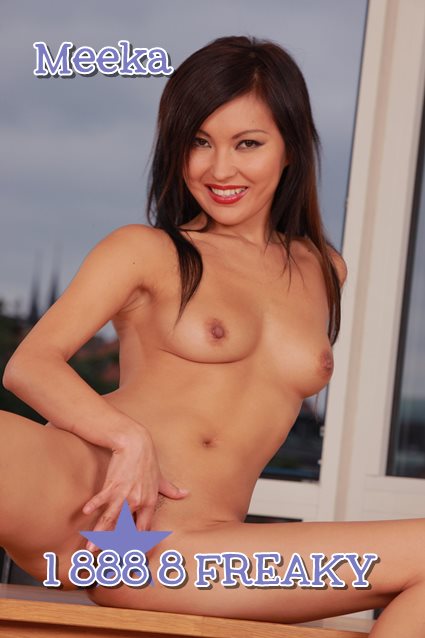 I really hope that you know you aren't even fucking close to good enough. You may love watching me get plowed by those big huge cocks, but the closest you will ever get to my sweet honey pot is cleaning it out after a bigger, better cock has serviced it well, and filled it with his creamy load. That's right. You are just a clean up service, you aren't even a real man.
Oh you need more details, do you? Well for that you will have to take your hand off that cock for just a moment. Just long enough to grab your phone, and dial 1-888-8FREAKY, and ask for Meeka your cuckold phone sex session. Let me be the one to quench those insatiable desires.