The other night the cougar in me was on the prowl again. I had met this delicious guy, age 29, who was begging to be my submissive. He kept chickening out, but with a little coaxing, the time I had put into him had finally paid off. He came to my house late one Friday night, where I was waiting for him in a sexy black nightie. I brought him into my bedroom and made him strip down immediately. It was quite a delicious view – he had quite a sexy body!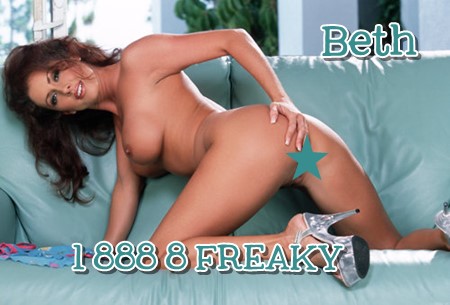 I already knew what he was into. We had had a coffee date the week before and we compared our fetishes. He was into tease and denial, light CBT, ass worship, and foot worship. A perfect match for me! He also told me that night that my work here turns him on, and how much he'd love to be here for a foot worship phone sex session, so he could do the things to my feet that I was telling my caller to do. I admit, that does sound like fun!
Anyway, so after I had him strip, I had him get on the bed and lie down. I proceeded to torture him with pleasure, running my fingertips all over his sensitive areas – nipples, tummy, cock. While I did it, I made him talk about what he would do to my feet if we tried his foot worship phone sex session idea. I let my mouth tease him some more while we talked about him touching my feet. I got him so worked up that his breathing was heavy, he was whimpering with desire, and he kept saying how much he wanted my feet.
After I decided he'd had enough, and just when I was ready to be the one lying back and being tended to, I got comfy and handed him a bottle of lotion, and told him to lie across the foot of the bed and get to it. He rubbed my right foot for a while, sliding his fingers up and down, squeezing and working the lotion in. He gave each toe direct attention, slipping his fingers up and down like each was a tiny cock. When he moved on to my left foot, my freshly moisturized right foot started to move all over his body – chest, legs, and eventually, his cock. I could tell he was so turned on by the way his pressure and rhythm changed in the way he was rubbing my other foot. He started to kiss that foot while I rubbed his cock and balls with my right foot, and his body started to buck and grind against my foot. Eventually both of my feet were wrapped around his cock – I used that foot job to get him so near the edge, and then told him it was time to finish by fucking me. I have never been pounced on the way I was that night! Here I thought I was the one doing the pouncing….
Want to hear more of the details? Call 1 888 8 FREAKY and ask for Beth for foot worship phone sex and we'll get off on a foot job together!
Google Hangouts IM: Bethcumsxxx5@gmail.com
Yahoo Messenger: Bethcumsxxx
Tumblr: bethcumsxxx4u
Twitter: @Bethcums4u