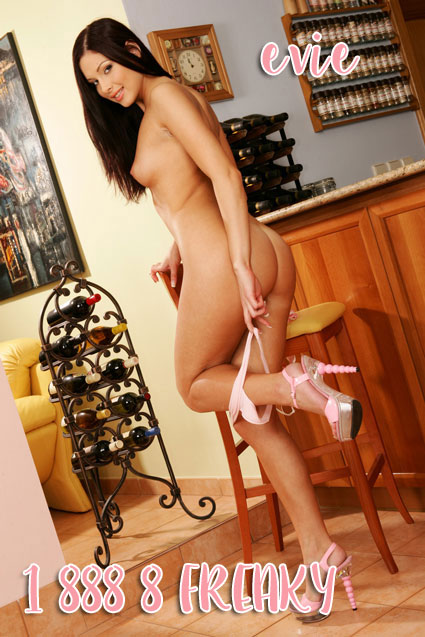 Hi boys! I'm Evie and I love getting all kinds of freaky and wild fetish phone sex calls from you. I can't really say that I have just one favorite, but I certainly have some that I love more than others.
Do you have a smoking fetish? Smoking is just so damn sensual. It turns me on so much to tell a guy how I'd light up that cigarette, inhale that smoke and then blow rings for him… right around his cock. And when I raise my head up and there's a ring of lipstick around his dick? Oh my God, that's just the hottest thing ever.
You know, I always get curious about guys who have a hiccup fetish, too. It is so interesting to hear exactly what it is about the hiccup that gets you going. Do you like the sound? Do you like having a woman sitting on your cock while she hiccups because you can feel her whole body (and pussy) tighten? Tell me all about it.
Are you a man with a foot fetish? Yum! I love having my sexy feet worshiped and massaged. Do you want me to wrap my feet around your cock and jerk you off? I might even let you shoot your load right onto my perfectly manicured toes. But if you make a mess on them, you're gonna have to clean it up, if you know what I mean.
One more I like a lot is forced intoxication. I love playing drinking games with you and making you take shot after shot of liquor until you are totally defenseless against me. What will I make you do? I don't know… I guess you'll just have to be brave and call me to find out.
Are you ready for your fetish phone sex adventure? Call me at 1 888 8 FREAKY and ask to talk to Evie. I'm ready for tons of fun with you!
AIM: BadGirlEvie4U
Yahoo: BadGirlEvie