Let me guess . . . what's vore? Lol, good question. Some of you pervs already know all about it. And some of you don't realize that you're into it, but you are. Curious? Dying to find out more on a sexy exploratory vore phone sex call?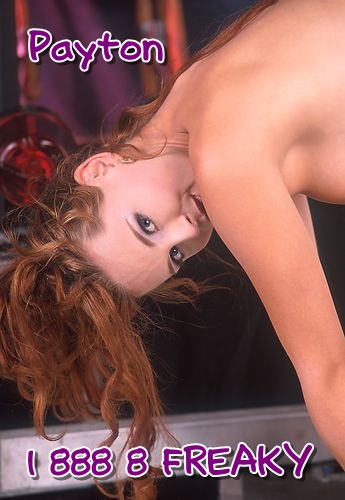 If you've ever fantasized about me being twenty feet tall, you're already a vore fan. More guys than you think are totally into the idea of being toyed with by a giant woman. Maybe you want me to start by dropping you right in between my massive tits, so you're nestled right in that giant size cleavage. Of course that's before I pull you out, tip my head back, and drop you right down my throat! Now you're trapped forever! And now you know all about vore!
Or maybe you have a different kind of giant woman fantasy. Like one of my vore fetishists. He wants to get smaller and smaller until giant Payton sticks him down into her giant panties. He's trapped while my giant pink pussy gushes all over him! Then, I take his tiny body between my fingers and push him deep into that creamy, wet, giant cunt where he's trapped forever and ever. He was my very first vore phone sex call, and I never forgot him!
Kinky and weird? Sure. But you never know what kind of freaky fetish is going to get you off! Variety is the spice of life, baby, and I like tasting every flavor! Ultimately, it's all about you being completely helpless while I take control, and ultimately consume you completely. If that makes you hard, that's cool. Maybe other people won't understand, but you can call and talk to me about any crazy, creepy, kinky fetish, and I will get off just as hard as you.
Whether you're a hardcore vore fanatic already, or curious about freaky, kinky, new fantasy, I'm all about it. You can get down with a fellow expert, or let me teach you all about it. Let's play!
Give me a call at 1 888 8 FREAKY and explore vore phone sex with me.
AIM: PlayWith_Payton
Yahooo: PlayWithPayton