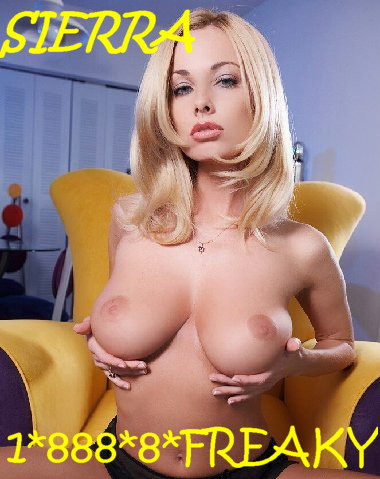 What is the first thing you think of when you see me like this? My 34 D's pushed together looking so lickable, touchable and fuckable. Do you want to touch them? Maybe take your tongue and roll them around my hard nipples as you squeeze my tits together.
I look up at you with my pretty green eyes and can tell that your cock is starting to grow in your pants. Getting rock hard at the thought of the things that you could do with me.
I have a caller who loves tit fucking. Every time he sees me in a low cut top that shows off my cleavage the first thing that comes to mind is sliding his throbbing hard cock between my breasts.
Last night I saw him in chat and we started to chat for a bit. And I could tell by his screen name that he had a very big cock with a lot of hot load that needed to be released. After we chatted for a bit I flashed my picture at him. The first thing that stood out were my big bouncy tits. He asked me if I liked getting tit fucked. And I said oh yes nothing makes me hotter and wetter then the thought of a long hard cock sliding between my tits.
Feeling that throbbing hard cock as it pumps in and out. Feeling his cock head hit my chin and lips as he fucks my tits. As I take my soft hands teasing his balls that are ready to explode I took my mouth and wrapped around his cock head. Ready to suck it and make it nice and wet. As I felt his hands on my breasts my mouth took his dick deeper and deeper in my mouth. Feeling him as he started to fuck my face. Hearing him moan out my name "Sierra"
As I looked up at him with a smile I started to take my tongue and run it up and down his shaft. Trailing my way down to his balls. Taking my tongue and running it over his balls nice and slow. Not missing one spot. I opened up my mouth to take them in my mouth. Rolling them round and round and taking my tongue as I started to lightly roll it round and round. My tight little pussy got so wet and tingly feeling his cock in my mouth.
I could hear him whisper to me that he was getting very close to cumming. As he told me that I trailed my tongue back up his shaft I looked back up at him and gave him the best hot, wet, blow job he has ever had. Sucking and slurping, deep throating his long hard rod as I could feel it twitch in my mouth. The deeper he fucked my mouth the hotter I got.
Taking his hands as he pushed my head even further down on his cock making me gag on it like a good deep throat cum slut.  Faster and faster as I slurped, licked and sucked on his cock I could hear him whisper to me again asking me where I wanted his hot load.
I told him "MMMMmmm i'm going to open my mouth up wide and say Ahhhhh" and just as I said that I could feel that hot thick jizz shoot in my mouth, on my pretty face, and oh please don't forget about my tits either baby. As I fingered my tight pink pussy and fingering my clit I cum sooooooo fucking hard and it felt sooooo good.  I can't wait for you to cum fuck my tits and mouth again baby….
If there are any guy's out there like this one who likes feeling my bouncy big tits wrapped around your cock and getting a very hot wet blow job from a naughty girl like me i'm ready to be your hot cum loving slut