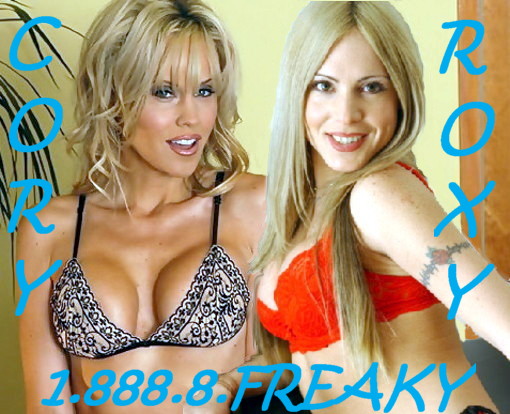 Me & my mom hadn't seen each other in 7 years. Not since I ran away when I was 14. ( http://roxyrebels.blogspot.com/2007/09/fate-is-fucked-up.html ) We totally lost contact with each other. Not long after I ran away she moved too. I didn't know where she was & she didn't know where I was.Then I got this job doing phone sex cause my boyfriend didn't want me working the streets no more. A little bit after I started working there another new girl came on. Funny thing was… she had the same name as my mom. We started talking & got to know each other. We got to be friends pretty quick just like I did with the other girls. Then the bosses got her pics loaded up. She WAS my mom!!!! She didn't recognize me from my pics but I knew her. We spent a few months getting to know each other again and finally we decided that she should come for a visit.Mom is HOT! So is Bobby my boyfriend. They both say I'm hot too. When we were planning the visit we teased & talked a lot about her fucking Bobby & us doing a 3-some & even just me & her getting it on. The first couple of days were all like you might expect. Proper. Polite. Hugs. And a lot of talking.
Then the 3rd night came. We took mom out for dinner and had some drinks. Then when we got home we drank some more. Bobby walked up behind me when I was getting mom another beer. He reached under my arms and grabbed both my tits. Mom laughed and said the if he was going to do that my tits should be naked for it. So Bobby pulled off my shirt and my bra over my head all in one move ad then grabbed my tits again.
I didn't know what to do. I had been teasing with mom about us all getting naked together but being there topless in front of her my mind went totally blank. When she got up & came over to where we were standing I thought she was gonna push him away & give me my shirt back. But she didn't. she only moved one of his hands and started sucking on my tits.
The next thing I knew bobby was holding me up in the air by my arms while my mom took off all the rest of my clothes. She told him to take me to the couch and they both started sucking my tits. It was so fucking great!!!
I don't know when they got undressed but the next thing I knew I was sucking on my moms tit like I was a baby again and I had Bobby's big dick in my hand and was stroking it. We all rolled over together and Bobby was between mom's legs and he rammed his cock right up her pussy in one hard thrust. Mom made that scream/moan noise girls make when they like how they're getting fucked. She looked at me with this expression in her eyes that I can't describe. But when she looked at me like that I couldn't help but kiss her hard and plunge my tongue into her mouth. We kissed like that until Bobby made her scream with an orgasm.
The we both sucked Bobby's cock together until he blew his load all over us. Mom licked his cum off of me. And then I did the same to her. But as I was licking the cum off of her, she pushed my head down until I was between her legs and licking her pussy. By that time Bobby had got his second wind and started fucking me in the ass while I licked my moms cunt. Every time he slammed his cock into my ass it pushed my face into my mom's pussy and I got a face full of her juices.
We fucked & fucked until we all passed out. I woke up on the couch spooned up with mom and her arms around me squeezing me so tight it was like her life depended on holding on to me. I didn't move at all. Even when Bobby came out of the bedroom & got a drink I laid there still. We didn't say anything. I just smiled at him. He nodded his head & went back to the bedroom. I heard him calling in and saying he wouldn't be going to work that day. I stayed there in mom's arms until she woke up almost an hour & ½ later.
It wasn't the last time we fucked that week. We were on each other 3 or 4 times a day. Me and mom even made love to each other when Bobby was gone at work. I never cried for her once in the 7 years after I ran away. Not even when I found out she had moved and I had no way of knowing where she went. But when we said goodbye at the airport at the end of her visit I started weeping. Just a little. But when me & Bobby got back to the car & started driving home I cried harder than I can remember ever crying about any thing else since my dad died.
I love my mom.
www.phonesexacademy.com/roxy.html