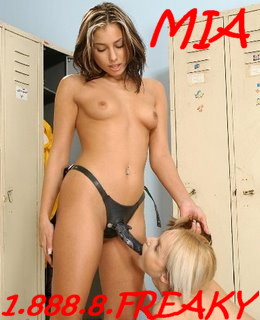 Hey little dick loser…Considering how small your cock is, I'm betting it only shoots blanks. Wait, did I say shoots? Let's be realistic here, I meant dribbles… or maybe sputters. Yeah, I like "sputters"… like a sick little thing sputtering and coughing up its little bits of cum. That sounds right. But my girlfriends and I have been having a debate over this and we've broken into two camps… the "sputtering" side and the "he can't cum at all" side. And now it's time for you to settle things once and for all.So pussy boy, pin dick loser, Hmmmm don't even think you will get special treatment from me. That's right, All your micro dick self can expect to hear from me is humiliation. First off, give up on trying to get it to grow like a big boy. You see, what you have there is never going to get larger, it is a pathetic excuse of a penis and would never be mistaken for a cock.Now you want to play with it, don't you? I mean look at it, no one else will ever touch it so get use to your lifelong girlfriend to be your hand, well your two fingers ha ha. Your hand is much to large to wrap around that teeny weenie and will get lost if you even try to stroke it. What I want you to do is get the honey out, yes, honey, you need something that is a bit sticky so that you don't lose your two finger grip. Take your index finger and thumb and start to stroke, be careful, do it slow so your hand doesn't slip off and smack yourself in the face…..LOL that will come later!
So you are going to drop your pants and masturbate for me… well, as best you can, considering what there is to work with. And when you cum, I'll see just what that tiny pathetic excuse of a dick is capable of… if it's capable of producing anything at all. And come to think of it you can't even call it a dick or a cock it's more like a clitty or baby dick. Fucking snausage little weenie.
Now, stand in the middle of the living room, facing the couch so I can see you. Drop your pants down to your ankles, then get down on your knees, back straight and head up… and spread your legs wide so I can have a chance of actually seeing that little prick. The lights are to be on nice and bright too – we both know any shadows will hide mini-mouse totally from view.
Don't tell me you can't perform with a beautiful dominant girl like me watching you. I don't care that you're kneeling in the middle of the room with the lights on full… it's not like i'm telling you to pee. Yeah, yeah, you're embarrassed and ashamed of how small your penis is… who wouldn't be? Just get to the stroking so we can get this over with… and only use two fingers, your thumb and index any more than that and you'll break the little thing, and I don't want to have to call an ambulance.
Come on, jerk it … let's get this show going. That's it, faster… I said faster! Pump away and let's see some of those silly faces you make so i'll have something extra to laugh at. And no, I'm not going to tell you how to stroke it… your pecker is too small to waste my time telling you how to get it done. Just crank it like the pathetic loser you are and tell me when you're going to cum so I can get my magnifying glasses and flashlights ready.
Oh come on already, hurry up and get it over with… you think I actually like watching you? I have male slaves with real cocks that are worth playing with… big, thick beautiful cocks that a girl would want inside of her… unlike your pathetic, twisted wiggly worm. I'm only doing this to settle a bet, and because it's funny watching you jerk away while you make those revolting faces of yours. But the amusement is now running as thin as that thing you're pulling on…
Pump your nub for one minute, one thing I have noticed in laughing at you dickless wonders is that NONE last, they explode so fucking fast which is great, means I can hurry up and move to the next loser. Now stroke faster, harder and stop after one minute. Do this two more times, that is three – one minute stroke sessions, weenie coated in honey – got it loser? Good Now get your worthless self on the phone now so we can finish this off…