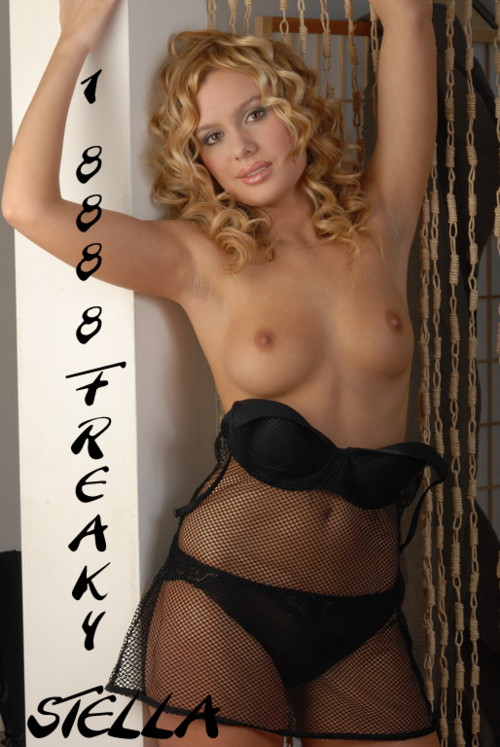 A Sunny Morning With New Phone Sex Bunny Stella!
I wake up and look out the window; wow I say to Kelly (my room mate) Are you going to bring me my Red Bull? Pleeease I just want to lay here under the window and feel the warm sun on my naked body. It feels so warm and wonderful Kel.  Thank you, you always do your best to please me; You know it will take more than one of these to get me out of bed after last night! I don't know why Phone sex is never enough to satisfy my sexual appetite?
When you came home from the club I remember thinking oh yes! Kel's here, I hope she is drunk and feeling extra slutty.  When you joined me on the call I did at first I though you were going to fake
it……  But when you pushed me back onto the bed, and began playing
with my pussy ever so lightly I knew you were going to be in the bed
long after the caller hung up. 
I love they way you gently glide your fingers over the outer lips of my pussy; then spread the lips apart, gently sticking your finger into my wet warm pussy; Then begin to rub my clit in counter clockwise motions! OMG it feels so incredible….  When that caller hung up the phone at least he got his money's worth! Ha ha ha….
I have to be honest when I heard the noise coming from the kitchen, I was surprised that you first, left your guest unattended to sit and play with me while on the call then took time to make me cum after.  But when he entered the doorway to my room/office I though HA ha
ha BUSTED!  You dirty girl, you were just getting me into what YOU
wanted for yourself! You selfish little bitch. I love your manipulative
ploys; you always surprise me, never a dull moment! Kelly you by far
have been the BEST ROOMATE I have ever had! OMG, when I saw that guy standing there in the doorway just staring at me naked, I knew what was to follow…….
When you got up and introduced him to me and unzipped his pants and unwrapped that package, I could feel my pussy getting wetter by the second. His name was so fitting; when you said hey Stell meet Rod I thought Hmm my my my……And a HUGE ROD at that!  
When you had him undressed ready to rock and roll, I went to the fridge to make a Cosmo, came back and thought while I was watching you suck his huge cock, how badly I wanted to have that cock deep in my pussy, while licking and teasing your sweet juicy rosebud. Mmmm I love my lil Rosie…. She is sooo Tight! 
While watching Rod fuck you, I wanted it so bad, as put my gushing wet pussy over your face; all I could do is grind my pussy on your face in desperation! When you whispered to me get up, I knew you read my mind; I immediatly got on all fours and into position. Feeling your tongue beneath me licking my engorged clit, I groaned with pleasure as Rod fucked me wildly……….  as I pulled you up to reach your pussy divulging myself in your just fucked juices…….. Listening to you moan while I too moaned the chorus of our pleasure made me explode with orgasmic pulses, and sensation!
The intensity of Rods voice, as he let out the beastly roar of letting go of the huge load he pounded into my already drenched cunt made me so incredibly satisfied and totally pleased………..  and now this morning I look into your eyes and lust for you again.