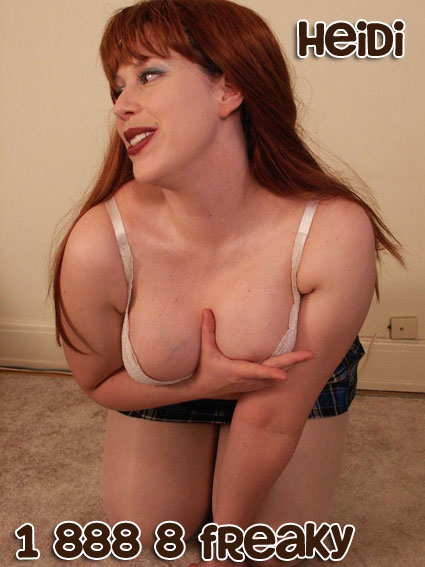 There is a common question that I don't normally like to answer. "So what turns you on, what do you want to talk about?" When a guy asks me this on a phone sex call, I never know what to say! It depends on my mood. But the one thing I've really been fantasizing about is induced lactation phone sex talk.
I love the idea of my tits all big, swollen and full of milk. Needing some attention. I play with my nipples and tits every single day. They get more and more sensitive. If only I had someone who could suck on them for me twenty minutes a day, eight times a day!
So far I've lactated a few drops of milk here and there, but I'd love to watch it squirt out. I watched a video recently where a girl was getting fucked. She was on top and her big full tits where bouncing so much milk was squirting all over the place! It wouldn't stop streaming out!
So there you have it. Heidi has her own naughty lactating fantasies. If you'd love to help me squirt more sweet breast milk or suck them dry, we'll have quite an intense and milky lactation phone sex encounter!
I would love to lactate for you! Call and ask for Heidi. xo  1 888 8 FREAKY