Don't you just love looking at my perfect body? I mean, you don't even have to answer me – I know you do. You have probably been staring at my pictures for a long time, trying to gather up the courage to call me. But didn't anyone ever teach you that staring is rude? That's why you're going to grab the phone right now and call me for body worship phone sex. I can't wait to make you tell me all of the things you would do to my body to please me. I mean, you've been looking at me for a while, so I am sure you've had plenty of time to think of what you'd do to make me happy.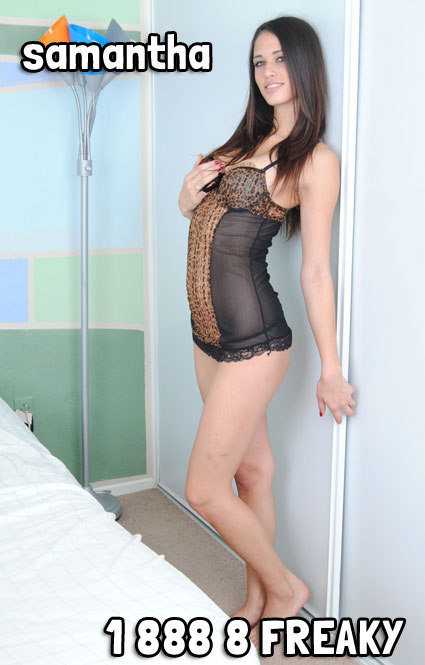 Where would you start? My feet? I do love having my feet worshiped. I'll make sure that I go to the gym and work out and get all sweaty before you worship my feet. You may take my sweaty socks and shoes off and then clean every inch of my feet with your tongue. Make sure you get in between my toes. I bet that's a really sweaty, stinky area.
And after going to the gym, the rest of my body will be really sweaty, too. Just think of how ripe my ass will be when you pull my gym shorts off and go to town on pleasing my perfect ass. Make sure you really get in there. Spread my cheeks apart and lick all up and down the crack of my ass. Of course, you need to pay special attention to my asshole. I know you won't let me down.
That's just the beginning of things. Are you ready for body worship phone sex? I am waiting for you – call me and show me how much you adore me. Dial 1 888 8 FREAKY and ask for Samantha