If you've got it, you might as well flaunt it, and honey, you know I've got it! Your eyes keep bouncing between these words and my photo because you can't help but want to see more. Well don't worry, baby, because I want to show you more. In fact, I want to show anyone who wants to see, and maybe even a few who don't! I love showing off what I've worked so hard (and paid so much) to perfect, and I'm happy to share the tales with you on a good exhibitionist phone sex call. I bet you're dying to hear about them.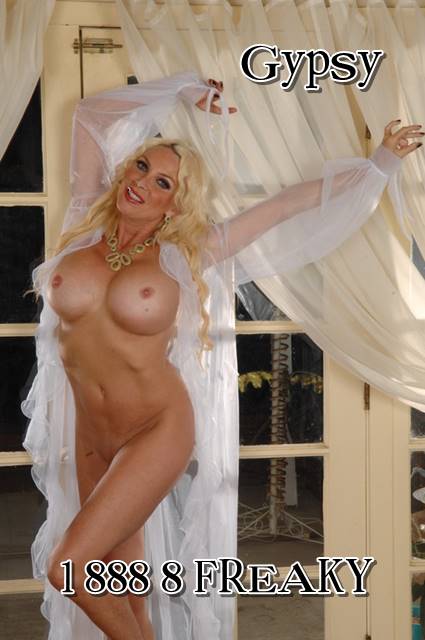 Like there was that time I was on vacation in the Caribbean. I was at the pool, and there was this man across the way just eyeing me down. I knew he was watching everything I did, so I made sure to give him something to watch. I took off my sandals, pulled out the suntan lotion, and started to rub it all over my body. I made sure to move my legs so he could see everything – my hands moving up the insides of my thighs, right to my string bikini bottom and, while I knew his eyes were on the prize, I gently slid the tiny sliver of fabric to the side so I could apply lotion to my sweet pussy lips. He got to see everything! Then, purposely teasing him by sliding it back in place – I mean, I didn't want to get in trouble, did I? – I quickly removed my bikini top right off, letting him catch a good eyeful of each delicious tit, and then flipped over onto my stomach. Aside from the string running up from my gorgeous ass crack, from his angle it looked like I was nude. I totally gave him many good ass wiggles, knowing he was watching the whole time. Then, after I was good and sun baked, I got up off that lounge chair and walked right past him, topless for him and everyone else to see. As I passed, I smiled at him, leaned down to whisper my room number in his ear, and then kept walking. Want to know what happened next? Exhibitionist phone sex is a good place to start.
I bet you have your own stories to tell. Cum on, call Gypsy tonight at 1 888 8 FREAKY and expose your naughty self with some exhibitionist phone sex!!