I really enjoy being a phone sex slut, so when someone hurls that word at me with the intent of being insulting, I just laugh in their face. Sex is a fucking beautiful thing, so for the life of me, I don't understand why some women just seem to have such a huge problem with it. Obviously, I love my friends and family, but they are the only things in my life that I love more than cock. And actually, if I am being honest, there have been times that I have canceled plans with people just so I could bounce on a rock-hard dick. Self-care is all the rage these days, and that just so happens to be my favorite form of it. Honestly, I can't think of anything that would make me feel better than looking down to see a massive cock sliding balls deep into my fat, juicy cunt.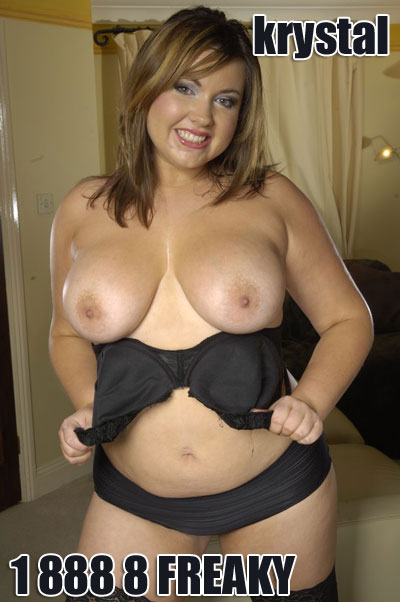 Luckily for me, a TON of men love BBW sluts like me, so it's never very hard for me to find a dick to play with. Of course, my favorite cocks to play with are black, but if a dick is big enough, I'll play with it no matter what color it is. I'm one of the lucky women who can orgasm just from having a cock stuffed inside me, so all you'd have to do is fuck me and it would make me cum all over that juicy dick. Do you want to hear more about all of my naughty sexual experiences? I can tell you about how being a slut has made me a better person, if you want. Or we can come up with our own fantasy to talk about together. Either way, I'm ready, willing, and very able to be your BBW phone sex slut!
Just pick up the phone and give me a call now at 1 888 8 FREAKY and ask to talk to Krystal.