I love to suck cock and I'm pretty damn good at it. However, right now, I want cock sucking phone sex where I receive and you will be the cheerful giver. You get to be excited, engaged, and eager, and I will not settle for less. Your mouth, tongue, and jaw muscles better be in good shape because you aren't stopping until I tell you to stop. If I notice that you are slacking off and your head game is plummeting, then you will be punished. It would be best if you can handle the pain because I'm crushing your balls with my hand as hard as I can. After I let go of them, then I'm going to give you the hardest spanking on that sweet ass of yours until I have your asscheeks turning colors. Could there be a method to your madness so you give me shitty head to get me to punish you?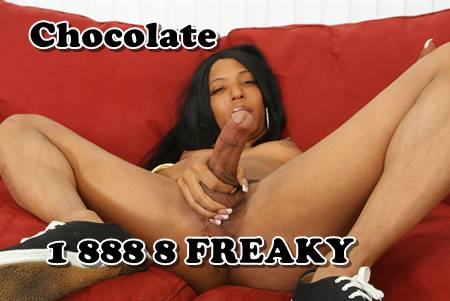 I want the kinkiest, nastiest, wettest, enthusiastic sloppy toppy so you need to deliver. Pretend like you are the main star of a porno where it's your moment to shine. I want you down on your knees, sucking my dick like it's a lollipop. Suck it dry! I can make myself hold off for a long time from busting my nut so I want you to challenge yourself to get me to cum in your mouth. Let's see how well your cock sucking skills are. Show me and describe in great detail what a cock sucking phone sex nasty slut you are. This 10-inch chocolate bar dick needs to be devoured by your mouth and throat. The more you moan, groan, spit on, gag, and choke on this big black cock, the better it feels and the more I will want to fuck that boy pussy you got.
Ladies, you can call and get in on the cock sucking phone sex action too. I know some of you also desire tranny dick so come to me and live out your truth. You'll feel empowered to look up into my eyes as you swallow my cum. Call me at 1-888-8-FREAKY and ask for Chocolate.
Check me out on Twitter @ChocolateRP1. Send an email at chocolatehottie4ever25@aol.com