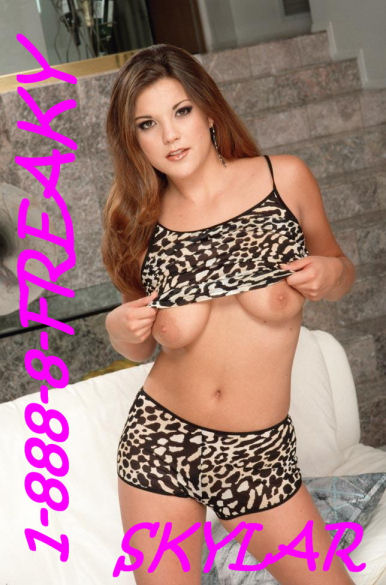 Outside!! 
I love the outdoors. I love riding my bike. I like swimming at the beach. I like boating and water skiing. I like hiking and camping. I like air boat rides in the everglades. I like water parks and theme parks. I like playing volley ball. I like skeet shooting. All the stuff that happens outside is good for me.
My favorite thing to do outside…. having sex!
I can't count how many times I've fucked out in my back yard. I've done it in cars & on cars. On boats. Tucked back in a corner outside the club. And most recently…. at the beach.
I picked up a guy at the snack shack up on the pier. He had dark hair, broad shoulders, smooth tanned skin and totally ripped 6-pack abs. I was wearing my new blue and white striped bikini. (What there is of it.) Those 2 little triangles of fabric that just barely conceal my 34DD tits with a few strong strings that keep them pushed together to flash killer cleavage. And the tiny bit of fabric the doesn't cover my ass at all with the little ties at my hips that shows off everything.
Me and this guy sipped our cold drinks. Then he followed me back to my spot on the sand under my umbrella. We chatted and finished the drinks. Then I said, "I'm hot… I need to cool off."
I got up and ran full speed for the water and dove in when it got too deep to run through. I could hear him right behind me. I swam out to where the water was shoulder deep. when he caught up to me, I pull those 2 little triangles to the side letting my tits go free in the water. He wasn't shy about grabbing 2 full hand fulls.
I wrapped my arms around his neck and my legs around his hips. He got the hint quick and was pulling my bikini bottom to one side pretty quick. I don't know when he got his dick out but he did and he was fucking me nice and deep. I kept my mouth on his. Mostly to keep myself from making too much noise and attracting the wrong kind of attention. His hot cock felt SO good in contrast to the cool water and I rode him until we both came.
When I was done with him, I pulled my bikini back into place. I gave him one last little peck kiss and said, "Thanks. No go away." And then I swam away from him. No… I don't know his name. He said it when I first told him hello but I didn't pay any attention.
Oh… and did I mention… this was Easter Sunday at 2pm on a crowded public beach??
Hot damn, I love the outdoors!!!!
1-888-8-Freaky ~ Skylar