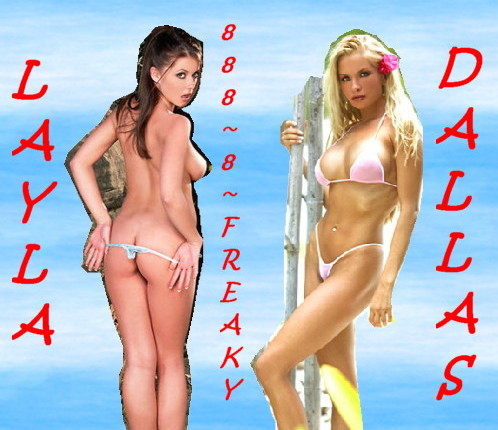 The Bikini Show
"Is that him? He's really cute." Layla asked peeking from behind the curtain.
"I think so." Dallas replied. Layla and Dallas were roommates that met a year ago because they were both models. Today they were modeling the new line of bikinis on a catwalk. They were thrilled that they both got a spot with this show because there were going to be some big time agents there. The bikinis were gold with chain and diamond rhine stone accents and matching 3 inch heels. The bikinis hugged their hips and showed off their large tits. Dallas was 28 with beautiful blonde hair and blue eyes. She took Layla, only 20, under her wing to help show her the ropes of the business. Layla had brown hair and eyes and an amazing body with long slim legs. The two of them hit it off when they met and soon moved in together.
"That is so him!" Layla said excitedly. They were looking at a tall man with brown hair, hazel eyes and a killer body. His name was Rodney Day and was the man to know if you wanted to make it in the business and they both desperately needed a break. It was their turn to walk down the catwalk. Rodney's eyes were looking at more then just their bikinis. Dallas made eyes contact and winked at him. He smiled watching the two of them walk and swing their hips. When they were done their walk they went back to where they were watching from behind the curtain.
"Did he see us? What do you think he thought?" Layla bugged Dallas as she peeked into the audience. Rodney saw her peeking and smiled at her. She waved for him to come over then slid her leg out from behind the curtain to give him a good look. He got up and started to walk over.
"Oh my GOD! I can't believe you just did that Dallas. Is he coming over for real?"
"He's coming. I think if we work together we can get him interested in taking us on his roster." Dallas smiled at Layla. She smiled back and felt a tingle in her pussy. The two of them shared a bed and had sex all the time even though they both dated men. The thought of putting on a show for this hot guy made Layla excited. When Rodney came behind the curtain, Layla could barely contain herself. He was so stunning to look at and the bulge forming in his pants was quite impressive too.
"Hey sweet thing. My friend and I were interested in becoming part of your roster and we are wanting to show you how much that would mean to us. There is a costume storage room just around the corner, we could go there and give you our pitch." Dallas had such confidence talking to him. Layla had always admired that about her.
"I am already very interested in you two, so a little more convincing would seal the deal." He said smiling at them. They led him to the room. When they opened the door it was dark and Layla had a little trouble finding the light switch. When she did turn the light on they saw racks of clothes along the walls going all the way to the back. At the back was a couch and table. Dallas closed the door behind them and locked it.
"You just make your self comfy on the couch there and enjoy the show." Dallas said pointing to the couch. He sat and started to massage his crotch.
Dallas and Layla faced each other and started to kiss each other hard. Their tits squished together. Layla started to kiss Dallas's soft tit through the bikini and her hands moved down to give her ass a squeeze. Layla got on her knees and started to kiss Dallas's pussy. She then slipped a finger under the bikini and found her sweet spot. Dallas moaned as Layla started to tickle her clit. She then bit the side of the bikini and started to pull it down with her teeth. She got it down to her knees and slipped it the rest of the way down with her hands as her face went back up to her wet pussy. Layla slipped her tongue into Dallas's slit. She found her clit and started to suck on it as she then slipped three of her fingers into her pussy. Dallas removed her top and started to squeeze and rub her nipples as Layla worked below. Dallas moaned as Layla hit all the right places.
"Lay down sweetie." She told Layla and she did. Dallas straddled her and kneeled down. She bent over and started kissing her neck and slowly moved down to Layla's large tits. Dallas then bit the bikini top and pulled it off of Layla. Dallas kissed and sucked Layla's nipples and moved a hand down to her pussy and slipped it under the swim suit into her pussy. Layla started to squirm with pleasure and cried out as Dallas softly bit her nipple. Dallas then moved down and pulled the rest of Layla's bikini off. She then turned around and straddled Layla's face with her pussy. She eased it down and Layla's tongue got to work. Dallas bent over and buried her face into Layla's wet, warm pussy. The two of them sucked and licked each other. Layla spread her legs wide so Dallas could get in nice and deep. Their bodies heaved and they were breathing fast. Dallas rocked her hips faster as she stopped what she was doing to catch her breath. Layla grabbed her hips and sucked faster and harder as Dallas tensed up and cried out as she came hard. She fell to the floor next to Layla trying to catch her breath.
Layla Looked up at Rodney to see he had taken his huge cock out of his pants and was stroking it. Layla decided to be bold.
"Ever since I saw you I have been wanting to ride that cock of yours."
"By all means come slip your pussy on it." He said. Layla got up and straddled him. She grabbed his cock and held it up as she lowered her wet pussy onto it. She cried out at how good it felt in her. Dallas got up and sat beside them and started to kiss Layla as she started to rock her hips back and forth on his hard cock. Dallas backed off so that Rodney could get a mouth full of Layla's tit. Dallas slipped her hand down and started to finger Layla's clit as she rocked on his cock. Layla cried out and pushed down hard on his cock as she exploded with pleasure. Rodney couldn't wait any longer and flipped her on to the floor so he could pound into her hard. Each thrust caused her whole body to jerk and she loved it. She wrapped her legs around him as he punished her pussy with his cock. She cried out louder the rougher he got. She dug her nails into him and bit his neck and this caused him to thrust a few more times then he teemed up and froze as his cum flooded into her. He pushed in a couple more times grunting as he released even more cum. He slumped beside her pulling out his softening cock.
"You two are amazing. I want to see you both in my office first thing Monday morning." Rodney said. The two girls looked at each other and smiled, knowing they were going to have good celebrating sex that night.
www.phonesexacademy.com/layla.html