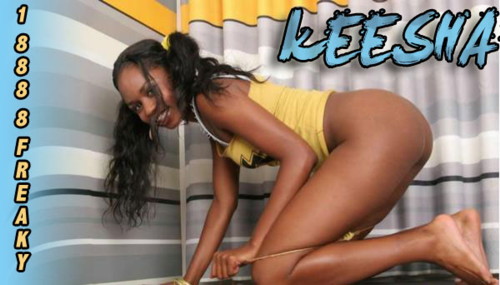 New HOT phone sex with Keesha
We leave together we cum together thats all we know. We been back and forth for months at a time now, doing the same ol' same. I'm sleeping with him or he's sleeping with me. We're friends with benefits so we're free to do as we please. I love everything about our sex time. We take turns being on top and I love to get down and suck his dick. So big, cinnamon brown, mushroom head..Mmm mmm mmm I love that big cock in the root of my mouth.Taking my time and I suck his dick and jack off the lower portion of the neck, he lays there with the pillow over his head, not wanting to express what he's really feeling.
"I just want to look at you while you suck my dick, but alot of girls don't like that", he says as he lays with the pillow over his head. I giggle. Lick around the neck and gently nibble on his balls. I raise up and pull the pillow off of his head. Kissing him on his lips, both sides of his cheeks, to his chest, stomach back to his cock, I look up at him while he watches me do me. I grab his dick with my right hand and lick the head of his dick head at the split quickly. I glance up and see him amazed at just how well I work my tongue. I start to deep throat his dick as he moans. He says, "Oh my gosh I hate you. I really fucking hate you for doing this to me." I chuckle and say, "you don't hate me. You really want to tell me that you love me right?" He says, "mmm hmm." So I french kiss his dick head. I deep throat it again about 15 deep long hard and fast strokes and say, "I love you too."
Right now he's feeling me more than he ever has before. Everytime we talk on the phone he says, "I'mma go get me a white girl  because black girls don't like to swallow." So I get on top of his cock and get to riding like a mad women because I'm so hot right now and I know how he likes me to throw the pussy on him. He asks me where do I want him to nut after a couple of minutes and I say, "In my mouth." So he wants to get on top and get to work for a while. I jus lay there, taking this beautiful cock inside my pussy waiting for him to pull out and shoot in my mouth. "You ready?, he asks as he strokes deeper. "Yes", was all I could make out of all the moaning I was doing because I was reaching climax as well.
For about 5 more minutes or so he's beating the shit out of my pussy. Then he quickly pulls out and I know what time it is, as I sat up and put my mouth around his dick, sucking as hard as I could. I wanted every drop of cum. I pulled the light switch to the ceiling fan and told him to look at me, as I had a mouth full of cum and swallowed it. SWALLOW.GULP.GONE. I watch him as he lay there, trying to catch his breathe. I jus gave him the time of his life and he's feeling me right now. I clean his dick with my mouth and make sure that every drop of cum was in me. I licked the cum off of my titties and wipped the cum of my thigh and my stomach with a finger and licked it clean.
We leave together, we cum together. http://www.phonesexacademy.com/keesha.html