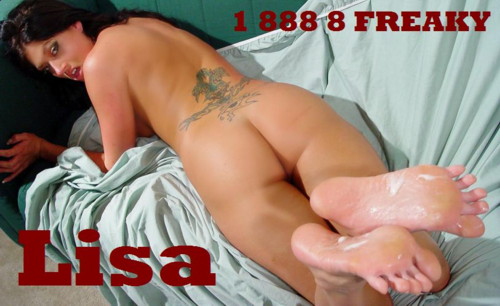 My husband left for the weekend. I wanted to have some fun, do something different. I called up my friend (with benefits). He said he would be over in a few hours. Finally my doorbell rings and its him, I was only wearing my lil shear gstring. He asked me was on my mind for tonight. I told him I wanted to try something different. I sat on the couch and he sat down on the floor. We talked about different things but I wanted something else. Then an idea popped in my mind. So I started touching his arms with my feet and playing with him. Before I knew it he was licking and sucking my toes. Then he started massaging my feet putting lotion all over them. Massaging the bottom of my feet and slowly starting up my leg
s to my calves. After a while, I took my foot and started pushing on his hard cock, pressing it into his stomach and pointing my toes towards the head. I take my toes and wiggling them a bit below the head of his cock. Rubbing up and down slowly, hearing him moan. I start to take my other foot and now I have both me feet around his cock.
Sliding my feet together up and down his hard shaft, rubbing back and forth. Then I take one foot and go up one side and then my other down. Pressing the bottom of my foot on the head of his cock and rubbing with the other. He starts moving his hips up and starts moving his cock between my feet, I knew he was about to blow his load all over them. He grabs my feet and puts them together, rubbing his cock faster, he shoots his hot load all over my feet. He was so satisfied and in amazement of my magic feet *smiling*. He gathered his things and kissed me good bye, I told him we will have to get together again soon.