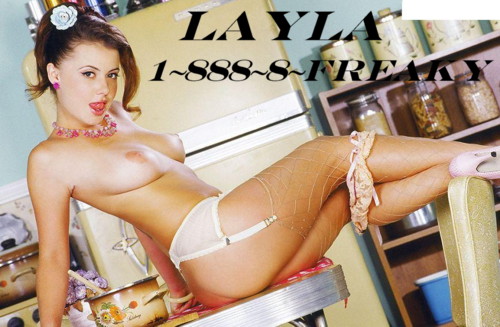 "We are just waiting for the Stewards to show up."
Layla said as she got a drink for Colleen and Jim Philip. Layla's husband was in the dinning room getting things ready for dinner. "So what made you decide to give this a try?" She asked.
    "Jim and I have wanted to spice things up for a while now. But seems like we have done everything two people can do together, so that only leaves adding more people."
    "Well let me reassure you that you are in for a treat." Right then the doorbell rang and Layla got up to answer it. "Jim, Colleen, this is Nancy and Nathan Steward." They came in and everyone exchanged their greeting.
    "Table's ready." Sean called out.
    "Ok, so let's begin shall we? First thing is everyone needs to strip down to only their undies." Sean came in to join the fun. Layla and Sean were the first to strip down. Layla had on black, lacey bra and thong. She had medium length brown hair and mysterious eyes.
Her tummy was toned and her tits were a nice hand full. Sean looked like he was from the military. He had short, brown, cropped hair and a muscular body. He too, had very nice brown eyes. The only thing he had left on was a pair of black, silk boxers.
    Nancy was a blonde bombshell. She had on matching pink thong and bra. Her tits were huge and she had a nice round ass. Her eyes were a beautiful hazel and she had even painted her nails pink to match. Nathan was tall and tanned. He obviously worked out. He had
sandy, brown hair just past his ears and blue eyes. He had on a tiger print Speedo. 
    Colleen had on a pair of red thong and bra to match her gorgeous red hair. Green eyes and freckles on most of her body. She had modest tits and ass and all over her body were beautiful tattoos of all shapes, sizes and colours. Her naval was priced and it was noticeable through her bar that her nipples were priced too. Everyone couldn't wait to see what else she had done. Jim was a fire fighter and had the body to prove it. Black hair and blue eyes. He had on red briefs.
    "Ok, let's get a nice look at each other…mmm…we are going to have a great time. Now- to the dinning room." They all followed Layla into the room. There was a round table in the middle with six soft chairs around it. Candles were lit all over adding to the mood. On the table were more candles and all sorts of food. It looked delicious and smelled amazing. It was all finger foods and cheese and chocolate fondues.
"Everyone take a seat. So the rule of the meal is simple: you are not allowed to put anything in your own mouth." They all giggled and looked around before taking a seat.
    The chairs were very comfortable, obviously made to be sat on by naked flesh. Every one but Layla and Sean were quite nervous and started to small talk. Their weeks were long and hard. They wanted to try new things and found out about this on line and thought it would be exciting. Seeing that everyone was uneasy to get things going Layla and Sean got started to break the ice. Sean reached over and took a piece of bread then dipped it into the cheese fondue and stirred it
around a bit. He held it up letting the cheese drip back into the bowl then brought it over to Layla's waiting mouth. He slipped it in and she gladly took it all in and closed. He then leaned over to lick the cheese that dribbled down her chin.
    The others around the table had fallen silent and watched intently. Layla then took a strawberry and put it between her tits. It sat there nicely. She then leaned over and pushed Sean's head into her chest so
that he could take the strawberry in his mouth. After he swallowed it he kissed and licked her tits some more. He then reached behind her and undid her bra and let it fall to the ground. Next, he reached over and got the honey and drizzled it onto her nipples. She moaned as the cool, sticky liquid clung on her hard nipples. Sean bent over and put one of her nipples into his mouth and sucked every drop off then moved to the other one. He sucked and kissed it while Layla moaned even more. When he was done they looked over at the other couples to see that they had taken the cue.
They had started to hand feed each other and soon, all the bras were off and the only sounds to be heard were sucking, kissing and moaning.
    "It works every time." Layla whispered into Sean's ear and giggled. They continued to eat food off of each other. It was an hour before every last piece of food had been consumed and their appetites had just increased. Everyone was a sticky mess so the next step was to clean up. They followed as Sean and Layla lead them to their large bath room. The shower stall was open and had two shower heads. Layla got the water nice and hot. So while the men watched, the ladies
took off their thongs and all got in the shower. The water poured over their bodies, cleaning off the mess they had made. Layla got the soap and poured it on all of them. The ladies started to rub each other,
lathering each other up.
    "May I take a closer look?" Layla asked Colleen, referring to her clit ring.
    "Absolutely." Layla got down on her knees and touched it lightly with her fingers at first. Then put it in her mouth, making the same sounds they had just heard at dinner. She sucked the ring and slowly slid two of her fingers into Colleen's warm pussy. Colleen cried out with pleasure. Nancy started to suck on one of Colleen's nipples, playing with the ring with her tongue. Then moved her lips up to her neck and finally to her mouth. Nancy started to rub her large tit
against Colleen's, her nipple ring stimulating Nancy's nipples into hard little pebbles. Layla then used her other hand and slipped two of those fingers into Nancy's soft pussy.
    The men watched on as their wives kissed and rubbed each other all over. The water making them soaking wet and clean. Layla stood up taking her fingers out of Colleen's pussy. Nancy put hers in to Colleen and Colleen put her fingers into Layla's warm pussy. The three women kissed and fondled each other with their free hands, as they finger fucked each other in a circle. They squeezed asses and rubbed tits together moaning and crying out. Warm water washing over their
bodies.
    Layla lay down on the shower floor and Nancy lay on top of her in a 69 position. She started to lick and suck on Layla's clit. Colleen then straddled Layla's face and eased her pussy down so that Layla could
shove her tongue in nice and deep. Colleen then slipped three fingers into Nancy's waiting pussy and with the other hand, rubbed Nancy's clit. They moaned and wiggled, going in deep and fast.
    Colleen rocked her hips faster and started to breathe harder then cried out loudly as she came on Layla's face. She lay down beside the other two and Nancy's pussy quickly replaced Colleen's in Layla's mouth. The two women 69ed each other their bodies shinny with
water. Their heads moved faster and they started to moan louder. Layla's backed started to arch up and Nancy pushed her pussy harder into Layla's mouth. They both reached orgasm at the same time and slumped onto the floor breathing heavily.
    The men were now all hard and ready to go. They had taken off their undies and all their cocks were hard. Layla got up and said,
    "Ok boys, time for you to get clean. I want to see my husband with Nancy." Colleen stepped out of the shower and Sean stepped in. Nancy started to wash him down. She grabbed his massive cock in her hand and started to move it up and down. He then turned her around and
she put her hands up on the wall. He shoved his large cock into her pussy, from behind with so much force her feet came off the ground. He wrapped one arm around her so that he could squeeze her large tit and the other arm around her stomach to hold her in place. Sean slammed his cock into her hard and fast. Nancy cried out and he slammed it in harder. His ass clenched up and he thrust up into her a couple more times before he cried out and came in her pussy.
    "That was fucking great." Layla said. "Nancy, it's your turn. Who would you like to see your husband with?"
    "I want to see him fuck Colleen's tight little pussy." Nancy and Sean got out of the shower and Colleen and Nathan went in. Colleen's tattoos were shinny and vibrant. She washed down Nathan. She had
such a tiny body next to him. She grabbed his balls and put his cock in her mouth and sucked it a few times hard. Nathan then picked her up and put her back against the wall when he stuck his hard cock into her.
She cried out as he thrusted it in and out of her, her tiny body bouncing on him. Her perky tits shaking up and down. He moved faster and faster, slamming into her. He finally came hard into her and pulled out his cock, breathing heavily.
    "I guess that leaves you and me Jim." They switched places and Layla got right to work cleaning him off.
Washing down every part of his body. She got on her knees and swallowed his cock deep. Moving her head back and forth, squeezing his balls. She sucked hard and fast. She could tell he was about to cum so she lay down on the floor and spread her legs wide for him. He got on top of her and the tip of his cock found her pussy. He held it there a moment while he sucked on her nipples. Unable to hold off any more he shoved his cock into her warm pussy and with a few quick, hard thrusts he came into her.
    He helped her up from the floor and she turned off the water.
    "Now that we are all nice and clean, it's time for  the final course for the evening. Follow me." They all followed Layla into the next room. In the room there was no furniture, only pillows on the floor. The
window was covered up so that no light could get it.
"Sit and get comfortable." As they did she switched on the stereo, which had I fast, flowing beat. She turned it up loud and when everyone was seated she turned off the lights. The room was pitch black and you couldn't hear anything over the music.
    Hands started to wonder. Layla's hand found a cock and she started to massage it. They could tell who the girls were but the bodies of the men were so similar that they couldn't tell the difference and they
couldn't hear them to distinguish them either.
    Layla got on her hands and knees and started to suck the cock that was in front of her. Her tongue pulsed against it as she sucked hard. Something briefly brushed against her ass. With out warning a cock
slammed into her pussy causing her to cry out. Who ever it was grabbed her hips and pounded into her hard. He stopped suddenly so she crawled on to the man she had just been sucking and sat her pussy onto his cock. She rocked her hips on his hard cock and bent over to kiss him to find a woman riding on his face. She kissed the woman's tit to find it was Colleen. They kissed each other and Layla found out that
Colleen also had a priced tongue.
    Colleen moved off of him so Layla lay down and started to kiss him. Then like before she felt something brush against her ass and this time the cock pushed into her ass. She cried out as two hard, big cocks fucked her. She loved the feeling of the naked body below her and the one on top of her thrusting away. The cock in her ass pulled out and she felt a warm splash on her skin. She moved off the man below her in search of pussy. She found a woman lying down and from the large size of her tits knew it was Nancy.
    Layla got on top of her, kissing her passionately and they held each other tight. They started to rub their pussies together. Layla sat up so that she could grind her clit into Nancy's. Their pussies rubbed together hard and fast. A cock brushed against Layla's cheek so she eagerly took it in her mouth and started sucking it like candy. Nancy moved away and he pushed Layla down so he could get between her legs and slammed his cock into her. He thrusted fast and hard. He stopped and moved away then another cock found her and she couldn't even tell if it was the cock that was just in her. She wrapped her legs around this one as he thrust into her over and over.
    A pair of woman's lips found hers and they started to kiss. The other woman then moved and put her pussy down on Layla's face. It was Colleen's little pussy. Layla's tongue played with the priced pussy. Layla reached up with her fingers and flicked them over Colleen's clit ring as her tongue went deep into her wet pussy. Colleen moved away and a short time later a cock found her mouth. As her pussy was still being pounded she sucked the cock not knowing who either belong to. The cock in her pussy moved on and the one in her mouth moved down to her tits. He placed it between and he squished them together hard and he fuck her tits. A mouth found her pussy and she could tell
from the pierced tongue that it was Colleen.  The cock between her tits pulsed faster then pulled off and she felt his cum splash on her chest. The ring in Colleen's tongue rubbed against Layla's clit causing
her to cum hard. 
    It was time to move to the next phase so Layla got up and found her way to the light switch. She turned it on to a dim setting. When she looked at the others, Colleen was being fucked by Nathan while she had Jim's cock in her mouth and Nancy was getting it in the ass by Sean while he fingered her pussy. Layla tossed them some towels to wipe down. It was now time for the couples to fuck each other.
    They all found their spouses and the woman laid on the floor next to each other and their man got on top of them. Layla wrapped her legs around Sean as his hard cock slid in and out of her. They kissed hard and he squeezed her tits.  She pushed him in deeper with her legs, her hips coming up to meet his with every thrust. She moaned and cried out as he pulsed into her faster and harder. Her back arched up again and she pushed down as her body was over come by the most powerful orgasm she'd had that evening. He shoved it in harder and deeper until he clenched up and came in her hard. He lay on top of her as they breathed hard trying to catch their breaths.
    The other couples soon came and the six of them all laid there enjoying the after sex feeling. Eventually, Layla got up and turned off the music. She and her husband went to the shower to rinse off and the other couples took turns doing the same. When they were all cleaned off and dressed, they sat in the living room with some drinks Layla provided. They chatted about the sex they just had, trying to figure out who they were fucking when; describing what it was like to
watch their spouse with someone else. It was nearly dawn when the couples got ready to go. They thanked Layla and Sean for the amazing evening, it was well worth the money, and swore they would have to do it again sometime.
    After they left Layla started to tidy up and Sean got some things out of the fridge.
    "We need to hurry and get things ready; I still need to get some sleep." Layla said.
    "Don't worry about it. We'll get it done before the next group  comes. We still have plenty of time to rest." He went over and hugged her holding her a moment.
    "Of all the ways to make some extra money, hosting these dinner parties is the best thing we ever came up with." She smiled and kissed him. She finished up and went to bed and he soon followed. He needed his rest too; there was a lot to do before the next group of couples came that evening.