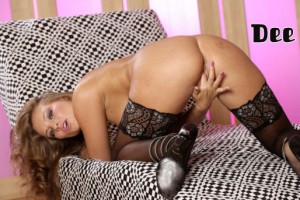 I had a very strict upbringing. I was taught that it's rude to spit – one must swallow. Just because you want to suck cock, that doesn't mean you're a
cum-slut
. Oh, wait, maybe it does. Perhaps you're shy.. Do you want me to show you how? I could suck my boyfriend's cock while you watch. You can practice with my strap-on. Be careful though – my boyfriend might be sneaking up behind you while you suck my dildo . . .
Perhaps you need to be tricked, or persuaded? Perhaps I'll invite one of my girlfriends over one evening and you'll find a little something extra under her skirt. Ease that cock out from under those girlie panties. Isn't it beautiful? Wouldn't you like to feel that smooth head sliding over your lips? Shall I hold your head back for you? Would it be easier if I kneel beside you, if I take his cock in my mouth first and then pass it to you? You might be embarrassed about your desire to suck cock. What if you sucked his cock after it was inside me? What if it tasted like cunt but felt like cock – would that make it more acceptable to you? Go ahead, take it in your mouth. The embarrassment will only sting for a moment – then all you'll feel is pleasure.
If you think that some women are reserved and snooty, then you couldn't be more wrong. I'd love to hear about your fantasies and fetishes, about your dreams and desires. I'm warm and witty with a wicked sense of humour and believe in making sex fun. Know that your every fantasy is never more than a phone call away. 
~xoxo~
~Dee~
1-888-40-BUNNY… ask for Dee ~  Kisses on your Cock !