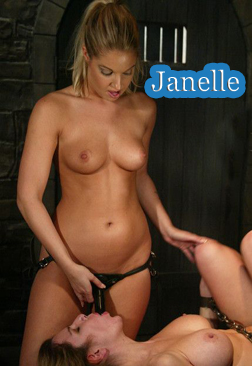 I love prancing around naked with my strappy on. Mostly because I enjoy fucking people with it. I fuck both girls AND guys with my strap-on. Do you want to watch me fuck one of my hot friends with it; completely dominating her and making her beg to suck your cock at the same time? Threesomes are always fun. Just call 1-888-40-BUNNY and ask for a 2 girl phone sex call with Janelle and one of her friends.
Or… are you ready to be my little bitch boy butt slut? I would LOVE to fuck your ass and make you fuck your ass for me on the phone. Turn you into my personal little fuck toy. My puppet to do with, whatever I want. You'll take it in the ass for me, and you'll fucking love every minute of it.
As always, I'm a kinky phone sex bitch.
Call me. 1-888-40-BUNNY ask for Janelle.
Find a girl for our 2 girl call in our free phone sex chat!!