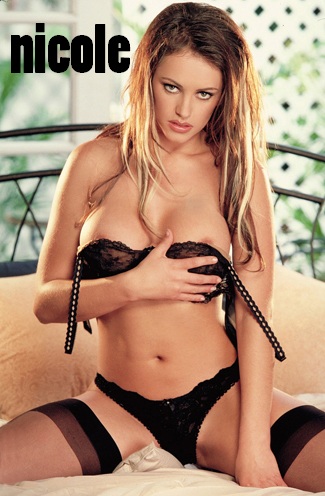 There was a short period of time a while ago, when one of my lovers was staying with me until he was able to find a place of his own.  He had gone to bed one night while I stayed up working on homework.  I finally got too tired and began dozing off at the dining room table, so I closed my books and went into the bedroom.  I stripped off my clothes and crawled into bed with him.  I snuggled my body up close to his and laid my head on his chest as I put my arm around him.
Maybe I wasn't so much tired as bored with doing homework, because as soon as my naked body touched him, I got really turned on!  I started rubbing one of his nipples with my fingers while I flicked my tongue against, and licked the one near my head.  I had one leg draped over his and I tilted my pelvis forward as I started grinding my pussy against his leg.  I started moaning softly from all the friction and dirty thoughts dancing through my mind.  He shifted his leg just enough that it pushed harder on my pussy and I moaned again and subconsciously moved my hand lightly down his chest and belly to his already hard cock.
I was rubbing and stroking it as I ground my pussy harder and faster against his leg.  Suddenly, he was awake and flung me onto my back while he positioned himself between my legs and buried his meat deep in my tight, wet, waiting pussy.  He started fucking me slowly.  Each thrust he forced his cock inside me until I could feel his balls grazing against my asshole.  Though with every thrust, it felt as if he were pushing inside deeper and deeper.  He kissed me, passionately, full on the mouth, tongues entwined as my body moved in perfect rhythm with his.
I felt his arms slip under my shoulders and squeeze my tightly while he shoved his hard cock all the way inside me and I continued to rock and swivel my hips against him, until I felt his whole body tense. I milked his cock with my pussy until I had squeezed every last drop of his hot, sticky juice out of him.  He lay quietly on top of me for a while.  When he finally pulled out of me and rolled off, I could feel his steamy seed ooze from my convulsing pussy.  I laid there rubbing his cum all over my pussy and clit while I let him go back to sleep.  I used his creamy jizz like lubricant while I fingered my pussy and massaged my clit until I came again!
Wanna give me a hot, sticky cream pie to play in?  Or maybe you want to watch me rub your cum all over myself.  Give me a call!  I would love to fulfill your creampie phone sex fantasy!
Call me at 1.888.40.BUNNY  ask for Nicole, and lets play!
AIM: HotNymphoNicoleX
Yahoo: HotNymphoNicole