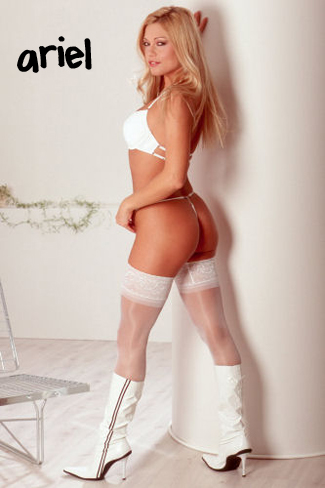 I always want to please my boss, who happens to be married to a bitchy wife, to his fullest expectations. I am a perfectionist, and any job he directs me to do, I do the task to completion with no questions asked. Secretary phone sex is so erotic; I feel like such a valuable employee when I help my boss release his tensions for the day.
My boss calls me into his corner office and tells me about how stressful his day has been. With all his meetings and conference calls today, Mr. Barrett is quite stressed and needs to release. I soothe away his troubles by reassuring him, "Mr. Barrett, allow me to help you."
I step behind him and gently massage his shoulders; my warm breath passing by the small hairs on his neck. With a little more force to release his tense muscles, I lean down and my soft breasts bump into the back of his head. "Oh, my apologies, sir!" He assures me that everything is okay, and he swivels his executive chair around and faces me. Grabbing me by the hips, he suggestively walks me around the chair to his desk and props me up against it. Reaching towards my head with a slight downward motion, he stands up and whispers in my ear, "Bend over, sweetie." As a perfect secretary, I obey; "Yes, Mr. Barrett."
I'm wearing a white linen buttoned blouse, the top of my breasts only slightly exposed, along with a classy black, kilt-like skirt; the kind that wraps around my hips and uses a brioche to secure it around my waist. Silver jewelry to accent my outfit nicely, and my favorite silver strappy heels. Oh, let's not forget about my teeny, barely-there black g-string. Mr. Barrett reaches around the front of my shirt and opens each button, lifting the bottom away from my skirt; it drops to the floor and my breasts are heaving out of my white, lacy bra. He rips my skirt off with a brisk tug; the brioche breaks and falls to the floor. There I am left in only my jewelry, bra, g-string, and heels. Mr. Barrett lifts my right leg up onto his L-shaped desk and spreads open my ass cheeks. He takes his hand and slides in 3 fingers all at once into my tight, dripping cunt. Once my juices are covering his hand, he sits down in that expensive executive leather chair and pulls my hips straight to his face; one leg still up on his desk. My creamy droplets dousing his chin with nectar, he buries his face deep down into my pussy suckling every last drop of moisture out of me. His face covered like a glazed doughnut, he starts to work my ass with his stiff tongue as he strokes his massive member. He darts his tongue in and out of my tight pucker hole until he jerks himself into sweet release and shoots his load all over my belly.
If you're ready to be my boss and experience kinky, naughty secretary roleplay phone sex with me, call me at 1-888-474-6769 and ask for this efficient secretary, Ariel.
AIM and Yahoo: NaughtyAriel4U