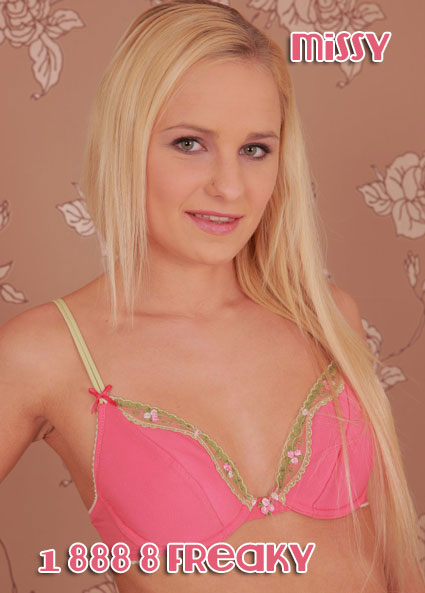 I know you've been watching me. You come to my cheerleading practices all the time. And it's not your imagination when I look at you and smile. Because we have a secret, don't we? You come to practices just to catch a glimpse of my cute butt under that tiny skirt. You have to put your jacket in your lap so that no one sees what happens to you when I wiggle, and giggle, and bounce. Giggle. And now that we're both aware of your naughty secret, it's time for some hot tease and denial phone sex.
I invite you back to my house. My parents won't be home from work for hours. The only rule is, no touching unless I say. You must obey Princess Missy. Giggle. Just to make sure, I think I'd better tie you to the chair.
First, I think I'd better get out of my sweaty cheerleading uniform. I watch your face turn red as I peel that tight uniform off my 18 teen body. I don't like to wear panties under my skirt. But you already knew that, didn't you?
All that physical activity always gets me feeling all hot and horny. You won't mind if I play with my wet pussy, will you? Giggle. It's so much fun to watch you squirm while I slide my fingers up and down my wet slit. What's that big tent growing in your pants? Giggle.
I come over and brush my small hand over that bulge in your pants. I love the way you moan when I do that. My curiosity just overcomes me, and I take your rock hard cock out, just so I can see.
Ooh! Giggle. It's getting really big, isn't it? It's actually throbbing just looking at my cute body. The precum is dribbling from the tip already, and I've barely touched you! I lean forward so my perky tits and puffy, pink nippes are right in your face, just out of reach of your mouth. You stick out your tongue, but I pull away before you can take that hard, puffy nipple into your mouth.
At this point, you're begging to touch me so hard, you're almost crying. You know if you could just get that throbbing dick anywhere near my sweet, soft body, you could release all over me. But that would spoil my fun. I tell you that you can't cum until I give permission.
If I sit my cute round butt right in your lap and wiggle, would you be able to hold it? Or would you cum all over that tight 18 teen ass? It will be so much fun to come up with so many dirty ways to torture you. I'll bring you to the brink over and over again, but if you think you'll actually get to cum, you'd better think again, Mister. I'm Princess Missy, and you'll do what I say. And Princess Missy says you're going home with a wicked case of blue balls tonight. Giggle.
Do you fantasize about being endlessly teased by a tight, tiny, 18 teen? My candy-sweet voice will drive you wild and my cute body will make you crazy. Give me a call and let me be your teasing phone sex minx Missy.
AIM: littleminx_missy
Yahooo: littleminx_missy4U