Ya we all know you want a sexy threesome but like you dont have the balls to actually make it happen. Hey I know I am a bratty phone sex princess but seriously I aint taking a slam at that cock of yours!  It has to do with the fact that you cant stream together 2 words when your around some seriously hot girls like myself. Hell when your on the phone with myself you cant even communicated what the fuck ya want.
I wish I was joking about the last part but like when your this hot even being on the phone with a guy they are all OMG OMG OMG your so beautiful I could never get a girl like you in my bed. No you couldnt not with the way your stumbling over your words like that but good news all those sexy and perverse fantasies you lay in bed jacking off too we can have fun with.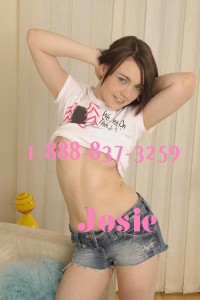 So that threesome you been jerking off to can happen with this cute bratty phone sex princess well myself and another bratty domme. Just have to tell us to maybe tone down the bratty part unless that gets your dick rock hard cause I am all for a little light humiliation on the phone when I am with another girl. Its what makes 2 girls calls so fucking awesome both of us playing off each other and well you having to endure what we dish out.
You may wanna give us a list of boundaries that you dont want us to cross cause umm who knows what trouble 2 bratty phone sex princess will create on the phone together. Probably loads.
Tons of sexy girls around and hell it doesnt even have to be 2 bratty dommes it can be me with a mature woman or hmm even a shemale would be fucking wicked for a threesome fantasy.
Name is Josie and you can reach me by calling 1-888-837-3259