Face it boys – this girl is fucking gorgeous. This hot body needs to be appreciated, and this phone sex Goddess deserves to be worshipped just like any other Goddess would. That's right – you know you want to get right down on your knees and worship me. While you're down there, you can start with worshipping my pretty little feet. I want you to run your fingers along my black stiletto heels, and up and down the sides of my sexy shoes. Slide those shoes gently off my slender feet and kiss my painted toes through my silk stockings. My toes are painted a deep red – your favorite color on a pretty woman's toenails. Next, run your fingers along the soles of my feet, then cup the heels and hold them in place while you kiss your way up the instep to the front of my ankles, and then up to my pretty shins. I know you love the feeling of my stockings on your lips, and the smell of my feet from being in leather shoes all day.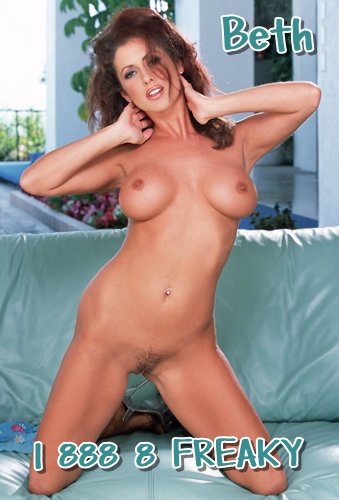 Yeah, you know you want to worship this phone sex Goddess. You'd love to travel up my shapely legs, caressing my calves while you tease that ticklish slope behind my knees. You'll kiss my delicate kneecaps while you slide your hands up the sides of my thighs. If you're a good boy, when your hands get to my hips I might let you slip them around so they have a firm hold of my fine ass, and if you are lucky enough to find me in the right mood, I may even part my legs wide enough so you can get a nice view of what makes this phone Goddess so divine. But will I let you go further? I don't know – can you prove you're worthy? Call me today and we can find out together.
Call 1 888 8 FREAKY and ask for Beth to worship a true phone sex Goddess!
AIM: Beth_cumsxxx
Tumblr: bethcumsxxx4u