I guess about one of the only things better than BDSM phone sex would be if I could teleport straight to ya and it all carry out in the flesh! But I tell you what, I'm a hell of an imaginative gal and I will paint your fantasies to life and our phone role-play will jolt the cum right out of your body! And if you buy yourself one of those electro stimulation catheter kits, it will be QUITE literal! Turn that voltage up high enough and you might get a little more than ya bargained for! When I take over the role as femdom and become your Goddess, you can bet your britches you're gonna get more than you bargained for! And you're damn well gonna like it too!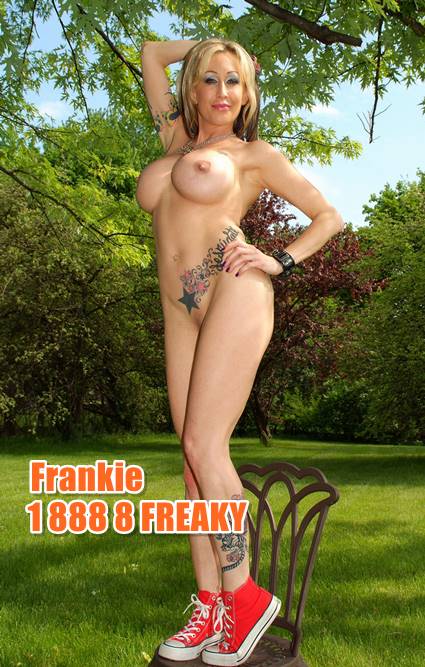 I sure would love to tie you up to my canopy bed…put my glass ass plug inside you where I can see EVERYTHING and still reach inside and feel around in there! Remember playing "doctor" when you were little with the neighbor girl? Well honey, the game has EXPANDED so spread those cheeks and be ready for an UPGRADE! Once I got you nice and stretched out, you'll be ready to meet my Bad Dragon strap-on! You best believe it suuuure is eager to meet YOU! I'm gonna ram that monster so far up your ass, your spine will ripple! I got a paddle with YOUR NAME on it—SLAVE! I'm gonna whack your ass so hard that you'll be able to see "SLAVE" on it for at least a week! There ain't no way I'm letting you forget your Goddess and who holds (and dominates) your little heart!
In fact, if you don't play by all of your Goddess's rules, I might just have to put you on lockdown! I have a variety of options, but if you want extra humiliation, I have a cute little pink cock cage with a heart lock and key! I wanna be your keyholder and have you BEGGING for release as your dick swells during our BDSM phone sex and pushes itself against the restraints of the cage, like a trapped little bird, ready to be my next snack!
If you wanna reverse the roles, you better whip out that dick and prove you got what it takes to be my Master! I don't let no worm-dicked boys Daddy ME! But if you got what it takes, I'll gratefully submit and the only safe word either one of us will want is a gut-wrenching moan when we both climax all over one another! Do you have your own personal dungeon? Or wanna take me to an underground club with a wall of dick machines? I could suck you off while you watch me and the other girls get our brains fucked! Or maybe you'd just prefer me all to yourself, no other eyes allowed, decked out in translucent full-body latex, chained and ready for instruction!
One thing I'd love to do during our BDSM phone sex would be the art of Shibari. You bring the ropes and I'll make you my rope bunny! I could suspend you from my ceiling, nuts dangling—vulnerable and exposed—and watch you SQUIRM with some CBT! But don't worry…I ALWAYS finish what I start! And I'm just jumpin at the bit to start you up! Can you handle it? C'mon babies—let's have some fun and find out!
1 888 8 FREAKY and ask to talk to Frankie