I haven't had a spanking phone sex call yet and I've been patiently waiting. I want to be spanked continuously during phone sex, actual in-person sex, foreplay, a full make-out/french kiss session, in the backseat of a vehicle after a date: I don't care as long as I can feel a paddle, whip, belt or a hand hitting my ass. Don't be afraid to hit my ass cheeks hard and make the pain really sting. Make my caramel, brown-skinned ass cheeks turn red. I need to feel soreness when I sit down for at least a few hours after the spanking. The feeling of being spanked like I'm a misbehaved, naughty, schoolgirl gets me so aroused. My pussy starts thumping and I can feel my heartbeat pulsating from down there. I can feel my kitty cat needing to be scratched.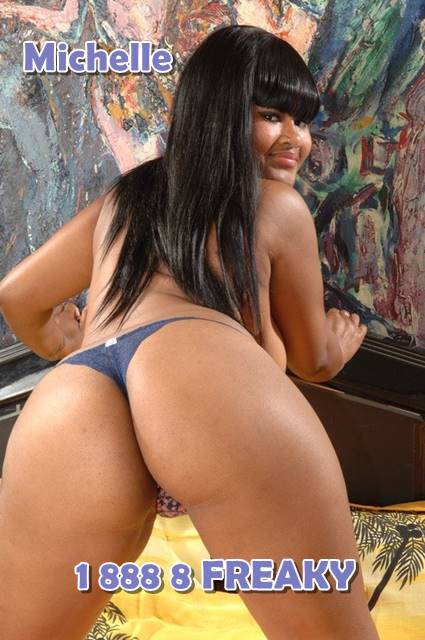 Another way to describe it is that I get that itch needing to be scratched and taken care of. Me being spanked unleashes the wild, sexual beast inside of me. A good spanking session leads to me clamoring for that cock to fuck me good. Don't worry though. I won't be the only one being punished during spanking phone sex so don't fret. Them ass cheeks of yours are mine. When I'm the dominatrix, my go-to apparatuses are paddles and whips. I can't risk hurting or straining my pretty and delicate hands. My beautiful hands need to be preserved. I will give that ass no mercy. I want to see can I make it jiggle with each lick/pop. You are my submissive bitch boy and I want to make you yell and scream and call me your queen. I'll allow you to have a safe word to blurt out if you can't take anymore.
Call 1-888-8-FREAKY and ask for Michelle.
Contact info: marvelousmichelle98@yahoo.com
Twitter: @MichelleSunsh98