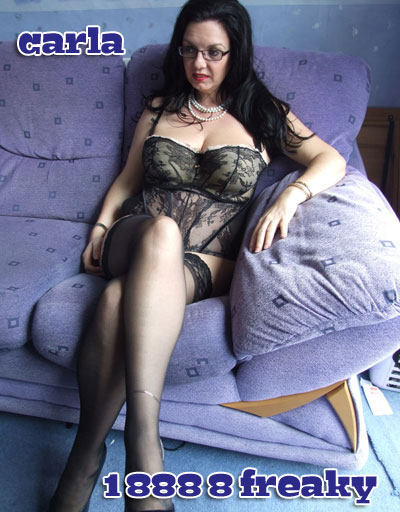 I am phone sex MILF Carla and I come from a time when spanking naughty boys (and girls) was a given when you misbehave.  Not only do I spank in real life, but I have perfected my techniques to make your spanking phone session the next best thing to me being there.  A spanking is best given over the knee – OTK – on a bare bottom.  There's no use arguing with me, it will only make it worse.  A sore and red bottom is the best way to teach you your lessons and correct your behavior.
I specialize in ritual spanking phone sex and I have much experience using many types of spanking implements.  Some of my favorite toys are canes, paddles, crops, floggers and of course my hands.  In the heat of the moment I might even grab a hairbrush or my slipper, whatever will make that naughty bottom of yours red.  It's a spanking, it's supposed to hurt!  And the punishment doesn't always stop when your spanking is over.  I might have you stand in the corner or get down on your knees to kiss my feet or even my ass.  Nothing like a good dose of humiliation phone sex with your spanking.
For spanking phone sex, call Carla at 1-888-8-FREAKY and ask our friendly dispatcher to speak with me.
AIM and Yahoo:  MILFCarla4u