Wouldn't it be nice if you decided to have GFE phone sex with me? I have a loving and sweet personality. I'll be here for you when you come home from work ready to relax. I could massage all of those tensed up muscles of yours or pour you a cup of tea. You're such a hard worker. You do your best every single day and I applaud you for that. You deserve this, you deserve me. Words of affirmation are my strong suit, but I can also accommodate any other love language you have. Maybe you enjoy physical touch the most? I'll allow you to place your hands all over my body, or I can place mine all over yours. Whatever you prefer, dear. I'm here for you. I'll kiss any part of your body. I'll plant kisses on you from your head to your toes. haha You're my handsome man. I love how affectionate you are, baby.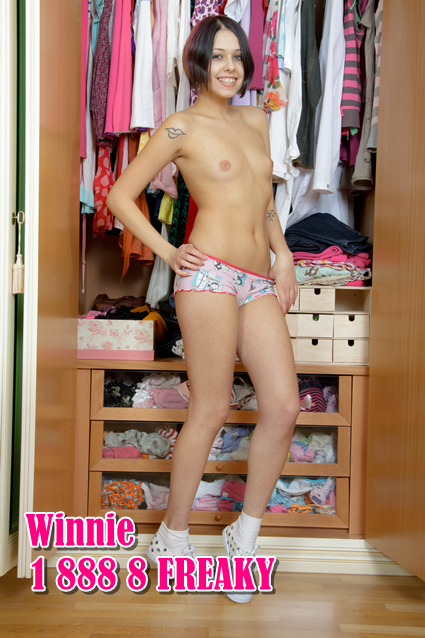 I love cuddling up to my man as the day comes to an end. We can cuddle on the couch, if you want. We could watch a movie or tv show together. I'm not sure if we'd get much watching done, though. I don't think I'd be able to resist turning things physical in the sexual sense. I'd place your hands under my shirt and you'd massage my breasts with them. Your fingers would pinch my nipples ever so slightly. I'd let out the sweetest moan you've ever heard. lol, Doesn't this sound hot? I think so. I'm cute and sweet, but I also have a naughty side. Taking care of my handsome man in every way possible is what I live for. I also like being taken care of. I'm sure you'll return the favor. You're also a kind gentleman. Girlfriend experience phone sex is just what you need to end your day with.
I'm Winnie and we're going to have so much fun together when you call me for GFE phone sex. You can reach me by calling 1-888-8-FREAKY.
My Twitter is @winniehunnipooh and my email is winnniebear3@gmail.com