What's up, all you men that have a secret fetish for another guy's cumshot? I'll bet you haven't told your wife or girlfriend about it yet. You haven't told anyone about how you fantasize about sucking a guy's stiff cock until you feel the warm jizz explode in your mouth and you swallow it. You almost called here for some discrete, hot cum fetish phone sex. Didn't you? Maybe you tried calling a few months ago but I wasn't here taking calls then. But I'm here now, and I'm so ready for you take me on and my cum. When I give my balls a chance to recharge for a while, my cum shots are huge and
massive. I can shoot 4 or 5 loads easily with oral sex…and I think your mouth is just what my hard cock needs. Get on your knees now and open wide for me.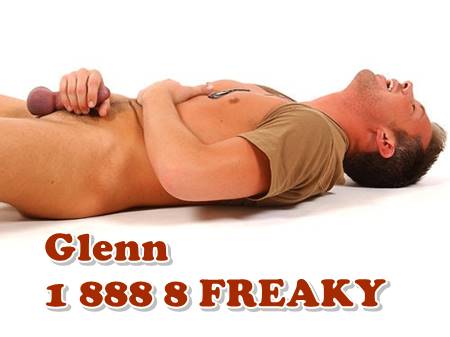 Let's get on the phone and satisfy your need to see, feel and taste my sperm..warm, bubbly sperm just for you. Taste it as I cream pie your face, shooting it all over you. There's no need to grab that next protein shake when I'm just a phone call away, and I got my cock and balls in hand, stroking and waiting for you. From now on, I'll be the only hot, horny boy you call when you need gay cum fetish phone sex. We will be as discrete and nasty as you want to be. I'll shoot my creamy loads anywhere that you need a filling. Oh yes, anywhere. Your mouth, ass, men's room floor, your neighbor's pussy..any place where you can lick and suck it up to savor the taste of me. I got my balls charging in between shots now, brewing up more cum for when you call.
1 888 8 FREAKY and ask for Glenn