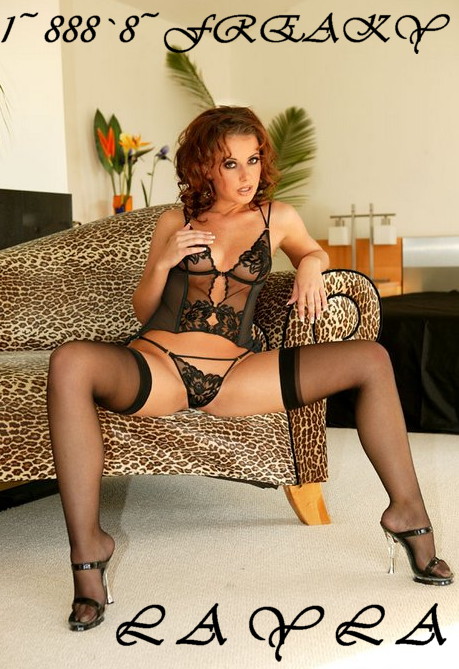 I waited five minutes after I knew he arrived.
I wanted him to wait. When I finally entered my
dungeon, he was as he should be. On his hands and
knees with his ass up in the air, naked. He heard me
come into the room and started to look up. I kicked
him in the ass.
    "You don't get to see me till I say you can." I told
him. Just for that I purposely walked around him and
stood there, tempting him to look up. I was wearing my
black, leather corset with matching skirt. My hair was
pulled back into a ponytail (you don't want the hair
getting in the way of punishment). I had on a vibrant
red lipstick and of course, black fuck me boots. They
came up past my knees leaving just a couple inches
short of my skirt.
    I walked over to the wall where I like to hang some
of my toys. Paddles, floggers of all shapes and sizes,
riding crops, whips, and some other home made tools. I
brushed my fingers across them, trying to get a feel
for which on I wanted to use. My hand rested on a
paddle. 4 inches by 6 inches, bound in leather with
and indent of a heart. This one felt right. I took it
off the wall and walked back to where he was still
crouching.
    "I'm annoyed Slave Dave. Do you know why?" I asked
him. He didn't respond. "I asked you a question." I
use a strong, firm tone. I never yell at them, it
would show lack of restraint on my behalf and I never
need to yell because my tones alone can strike fear
into them more so then any raised voice could.
    "No Mistress Layla. I don't." He finally responded.
    "You were supposed to be here on the weekend. I had
to change around my plans for you."
    "Sorry Mistress Layla, my wife didn't go to her
mothers and…"
    "I don't want to hear excuses. You need to prove your
servitude to me and this is not a very good start. For
your deviation, you will receive 5 strikes from this
paddle. You are to count out loud ever time I strike
you." I walked behind him and waited. I wanted him to
wonder when the strike would come.  I brought my arm
back in my tennis swing technique and struck him hard.
    "One." And again.
    "Two." Again.
    "Three. Four. Five." My last strike was so hard his
whole body moved. Every one of my strikes left a heart
shaped mark on his ass.
    "Get up." I demanded. He did and I brought him over
to my ceiling banister. I had put some rings on it so
that I could restrain people to it. I had to stand on
a stool to reach it. I restrained his hands as far
apart as I could. He had to stand on his tip toes to
support his body, just another inch higher and he
would be hanging from it. I stood back and admired the
pose. He was finally able to take in the full site of
my curvy body.
    I walked back to the wall and hung up the paddle and
took down my favorite flogger. Red leather with 3'
long, thing straps. I had personally tied the blood
knots into the ends of each strap. I came up behind
him.
    "I need to find out if you are worth for me Slave
Dave. You have to be able to take a lot of pain to
prove to me your servitude. If you can make it through
this, you will be rewarded, if not, then I will never
waist my time again with your presence." I dangled the
flogger over his back, so that he would have an idea
of what was coming. Then I stood back and struck him
with it. He cried out.
    "Do you want me to stop Slave Dave?"
    "No Mistress Layla. Please give me more." Good boy
Each strap leaving a mark. I struck him again and
again making criss cross patterns on his back. I put
it back on to the wall and went to my counter. I took
a ball gage off of it and approached him.
    "It's going to get a lot worse Slave Dave. If we
continue, you are going to need this. Do you want me
to stop?"
    "I want to take as much as you will give Mistress
Layla." Perfect. I have trained him well. I put the
ball gage in his mouth and fastened it behind his
head. I went back to the wall and took off the bull
whip. It was six feet long with a single knot in the
end. I took in a deep breath of it. I love the smell
of leather. I took my position behind him and snapped
the whip just beside him. The sound made him jump and
he started to tremble when he realized what was next.
I snapped the whip again, this time the tip made
contact with the meaty part of his shoulder. Blood
started to trickle down.
    I whipped him six more times, each time he cried out
and bite hared into the gage, each strike leaking
blood. I walked around him and showed him the blood
soaked tip.
    "Look at what you did to my whip. I don't appreciate
having to clean it." I tossed it aside and went to my
counter. I gathered some clamps and went back to him.
I put one on his nipple and adjusted it so tight, his
nipple started to turn white. I did the same on the
other. I then put a clam on the inner upper thigh of
both legs and the final one was attached to the
scrotum. The pain in his face gave me intense
pleasure.
    I went back to my wall and took down my riding crop.
I used it to strike his face then used the tip to play
with all the clamps. Each time I teased a clamp it
would feel like it was going to rip off.
    Still not satisfied I went back to the wall and got
my bamboo cane. It was a thinner one, which are the
more painful ones. I rubbed it over his ass then
struck him. And repeated that several time. Each
strike cased his skin to welt. I tossed it a side and
release his restraints. He fell to the ground and
rolled onto his back. I removed the clamps, the
release of pressure almost as painful as when I put it
on.
    I went to the wall one final time and retrieved a
leather strap. I had sown coins in between the layers
to give it more weight. It was 2 inches by 8 inches. I
crouched beside him and struck him across the chest,
hitting both nipples at the same time. He bit into the
ball gage again, leaving teeth marks in it. I moved
down his body to his thighs and struck him there
letting the strap wrap round to where the clamp had
been. I did this to both legs. I then put his feet up
on the stool and held them in place with one hand
while I struck them with the strap. Each strike
sending and electrical surge through his body. So many
nerve endings in the feet. His muffled cries gave me
great pleasure.
    I then kicked the stool aside and spread his legs
apart so I could walk up to his crotch. I stepped on
his penis and the heel of my boot ground into his
balls. I applied to much pressure I'm sure he thought
they would pop. I then walk beside him to his chest
and ground the heel of boot into his nipple. When I
pulled it off there was an indent left behind.
    Finally I was done torturing him. He was breathing
hard as I took the ball gage out. I was impressed with
the pain he was willing to take for me.
    "You did well Slave Dave. Time for your reward."  I
undid the top of my corset, exposing my breast. I
knelt over him and allowed him to take in a mouthful
of tit. He savored the soft tit in his mouth. I then
straddled his face and lowered my pantyless pussy onto
his mouth. He licked and sucked on my pussy as I
rocked my hips on his face. I dug my nails into his
chest and ground harder. Then in a sudden burst I came
on his face. I savored the feeling then got up.
    "Clean this mess up Slave Dave. I will see you next
week, and don't you dare change the date again." I
left him lying there and left the room.