Oh honey, you know I love taking control of the situation, but that doesn't always mean things have to be so rough and mean, do they? No, they definitely don't. Sometimes you can get the point across and still be soft and feminine, and with Mistress Gypsy, bondage phone sex is no exception. I mean, you will definitely be tied up, honey, but trust me – there won't be rope burns when we're done. There may be marks, but they won't be left by rough, scratchy rope…I promise.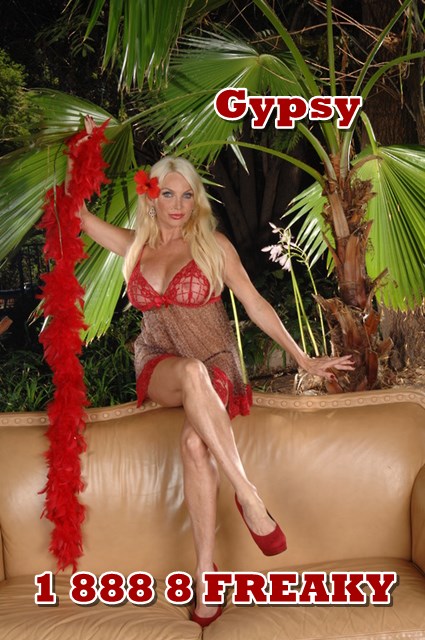 I have so many pretty, silky things, but a girl can only wear so many of them at once, so I always have an abundance of stockings, garter belts, bras, panties, even silk scarves and feather boas! So many beautiful bondage items right there in my delicates drawers. No need to go and spend good money on rope – I'd rather use the storage space for all the gossamer goodies I can squeeze in. I know a man like you loves the idea of being tied up with a delicious pair of silk stockings so much, you won't even struggle too hard and stretch them out, will you. Just the sensation of that material wrapped around your wrists and ankles will render you powerless. Call me for bondage phone sex and we can talk about all of the lovely and naughty things I can do to your prone and vulnerable body.

With all of the sensation play I can give you with a plethora of cool, smooth satin, soft but scratchy lace, sheer and billowy silk, and the ticklish titillation I can create with a feather boa, bondage phone sex couldn't get more erotic! Are you ready to be tied up and turned on like never before? Call 1 888 8 FREAKY and ask for Mistress Gypsy, and get ready for your body to truly come alive!