I went to my neighbor's Halloween block party and dressed like a slut and caught the eye of Martok. I have never been too much of a Star Trek fan but this Star Trek Klingon was built like a bull. Curiosity got the best of me and I played. What came next was a kinky phone sex adventure waiting to happen and I have to tell you about it.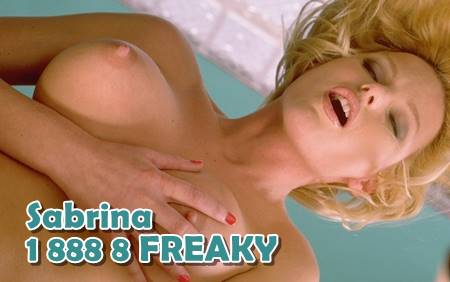 Martok walked up to me and bit my neck and I was in the mood to play. My nipples hardened as he grabbed my hand playing with my fingernails. He stopped and looked at me and then slightly leaned forward and whispered in my ear, "There is no greater enemy than one's own fears. If you're a fan you'll understand." I interrupted and whispered back, "Garak's Claustrophobia. Fuck me." I whispered in his ear and he bit me again. I exhaled thinking of this masked man with a body I want to climb and ride.
His tongue thick and wet slid down my neck making my pussy quiver. He took me back to his place where he immediately carried me in and we went straight to his room. He threw me onto the bed and ripped my clothes off and started to roar. He pulls my hair and I arch my back, he then slaps my rock-hard nipples aching from being so hard. Squeezing my breast he then spreads my legs wider and sticks his finger up my wet pussy. I let out a moan and he unzips his pants, smells and licks his finger and he sticks his cock inside of my snatch.
I squeezed his cock with my pussy and we both moaned with pleasure. He squeezed my breast then ran his hands to my hips and landed on my waist, we rolled. I was riding Martok. His dick inside of me expanded and my clit rubbed on his cock as it slid in and out of me. I could not stop my hips from swaying back and forth. The feeling of his cock head rubbing inside of me made my entire body quiver. I wanted to explode on his cock. I could feel a burst of energy wanting to be released, I moved faster and faster. He yelled out loud as did I and I squirted all over his body and bed. Rubbing my breast as he kissed me and his cock still inside of me, I rested on his chest and we rolled over.
Martok spread my legs and began to lick the cum off my inner thighs. He devoured my sweet cum like water. Moaning with delight tongue fucking me with that alien tongue reaching for my sweet g-spot. This cum slut was ready to be fucked like a savage. Feeling his tight grip on my neck and his other hand squeezing on my tit. He pushed his cock far deep into me. I let out a loud moan, his swollen cock with bulging veins that felt like ripples in my cunt. His cock stretching my tight hole, balls deep in…
Call me at 1 888 8 FREAKY and ask for Sabrina for the best kinky phone sex and tell me, where did this cum slut take his load?
Xoxo
Sabrina Sins