The two senses I enjoy indulging the most are my sense of touch and my sense of smell, which is why playing with leather items of any kind can be as fun of a party as it gets. There really is nothing as pleasing as the smell of leather – there's even a man's cologne out there that smells like it. Leather fetishists are aroused by that smell, no matter where it comes from. It could be shoes or boots, a long leather coat on a hot woman's naked body, or even a sexy pair of leather gloves touching your face. Just close your eyes and breathe it in right now – I know you can smell it. If you're open to erotic hypnosis, I can make sure you smell it when we add hypno to a leather fetish phone sex call.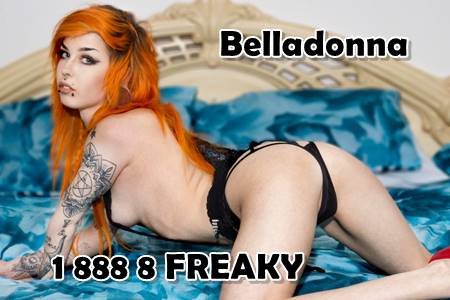 A true leather fetishist also loves the experience of touching soft, buttery leather. If I put on a short leather skirt, I find myself touching it all day. If you're a leather fetish phone sex kind of guy, I'm sure you'll want to put your hand on my leather-clad ass too. I've even enjoyed lying naked on a leather couch – it's especially erotic to make out with someone on one. Bare skin touching bare skin, all touching tanned leather…it's a leather lover's tactile treat!
For the kinkier guys into leather, I have a collection of leather straps for bondage, a leather belt for impact, and a lovely pair of leather gloves. What are they for? So many things involving so many of your naughtiest spots – all of which can be revealed in a leather fetish phone sex call with me, Belladonna, your favorite leather fetish erotic hypnosis femdom.
Have I piqued your interest in leather and/or hypno? If so, call 1 888 8 FREAKY and let's get leather together!!