ABie Phone Sex with a Gentle BBW
Hi, sweet thing. I'm Miss Lilly, I wanted to let you adult babies and diaper lovers know that I love ABDL phone calls with abies. Caregiving comes naturally to me so it's no wonder that I find myself drawn to abie phone sex. Do you like a soft and curvy Mommy when you're in the mood for age regression? You'll instantly feel smaller when you're pressed up against my warm soft skin and round body. Besides that, I have great big boobies for adult breastfeeding. You can cuddle in close and snug and latch on to Miss Lilly for a meal while I stroke your hair and your face and talk really gentle to you. I want to make you feel the love and comfort that you deserve to feel. Life can be so overwhelming, but you can always come to me and shake off the stress for a bit.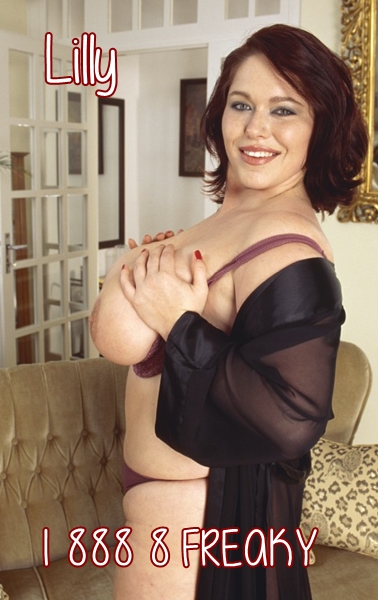 All sorts of fetishes are intriguing to me but I am especially drawn to those that make others feel good and loved. Even the ones with domination and submission can be about love and nurturing. Making you feel good and nurtured is what makes abie phone sex so special to me. I might have to spank your bottom but it's all about love. I'll give you cuddles and kisses. Aftercare is important to me when it comes to domination or BDSM, it's integral to adult baby play as well. I have plenty of space on my body for you to snuggle in for hugs and get your kisses. I want to make my abies feel the love and care that they deserve. Don't you want to get lost in snuggles with a BBW I hope so because you all are so fun to roleplay with and talk to.
Lilly
1 888 8 FREAKY/1-888-837-3259