Sure you probably look at me thinking aww she is pretty cute. Sexy even. The girl I would call to be my sensual phone sex girlfriend. When I am craving something hot and erotic.
Which yes I do love those sensual girlfriendy type of calls but I would have to say if you only call me for something super sensual you would be missing out massively. For as sweet as I look there is that side of me that craves something kinky. Dirty. Perhaps one could say dark. Not super dark but still its more than what I let you see when I am walking along the street.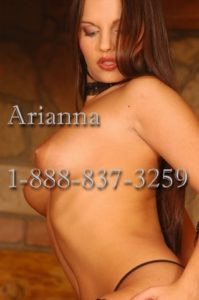 For I am definitely the girl you bring home to meet your parents. The girl you bring to your office party. That one you let meet your friends. However, I am that girl who will make you blush and have you biting your lip when your away from me. For you will be thinking of every dirty thing we did together.
What are those dirty things? Ohh see baby I cant tell you here for this is far to public of a place. I can tell you that if you look hard enough you will figure it out.
I am that erotic tease your cock craves.
That sensual domme your mind seeks.
Most importantly the girlfriend of your deepest desires for every fantasy is a wonderful possibility. Yes even that kinky fetish your afraid to admit to yourself you like.
So lets have some fun tonight. See where things go. No limits. No expectations. Just us dropping our inhibitions and letting things unfold as they should with your super sexy kinky phone sex girlfriend.
Arianna is my name 1-888-837-3259