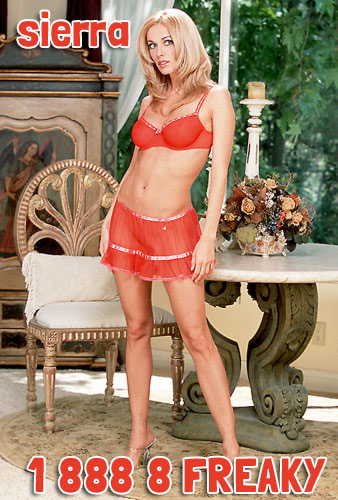 Don't look at me like that you naughty pet pretending you don't want to have me use all my favorite toys on your slutty ass right now. If you didn't you wouldn't be on my bed with your bare fucking ass up in the air like that. I know you like BDSM phone sex. Do you need a reminder of what a women like me can do to  a submissive male like you? You're so excited with your hard dick sticking straight up in the air unsure of what I'm going to use on you today. And you know before I bring anything out that you will be bound and helpless at the mercy of this sensual sexy blond hair blue eyed Mistress. I just love cuffing you and using my favorite restraints. Rope, chains, scarves, my dirty fucking creamy panties and
whatever else I can think of. I've got floggers, whips, riding crops, paddles, and some of the craziest most unheard of objects that will make your dick drip pre cum. I just love my toys, fuck  machines and secret bag of goodies. So do you! Don't pretend that you don't because if you didn't you wouldn't be sitting at your computer right now reminiscing of this mistress. You are my favorite ass slut to have my way with. My naughty pet and kinky boy toy. There isn't anything you wouldn't do for me. Or at least there isn't anything I wouldn't blackmail or hold over your head to persuade you to say yes….Are you thinking about the last time I used that huge 12 inch black dildo on your slutty ass? I bet you are thinking of what I lubed it up with aren't you baby? But I didn't use the typical k-y gel. Noooooo I used something much more intense. And you sure didn't see that one cumming at all. *wicked evil grin* I just love submissive males that drop to their knees and give into me. And i know it won't be too long before you are on the other end of my phone again calling me for the best bdsm phone sex around. You are jacking your dick right now thinking about the last time I had you in my bed. You can't get the image of me in my red matching sheer bra and skirt. I had on my satin soft thigh hi's and six inch fuck me pumps. You shiver at the thought of my satin covered fingers trailing across your back unsure of when I'm going to give you a loud fucking swat across your ass. But I won't give you the pleasure of feeling the sting of my favorite toys until I hear you beg! You smell the scent of my panty covered pussy as I slide a finger in. I love to look down at you as I masturbate and see all that lust and hunger in your eyes. Do you wanna taste of this bald dripping wet pussy? I know you do now beg slave! And wiggle that ass like you want it too! You started to beg me like an obedient slut as I kept touching my bald cunt in front of you. I know you wanted to lick it and serve it and feel me straddle you but not today… If you want that you have to earn it slave. The swats of my toys as they whack against your pale ass starts to get redder by the second. The more I do it the harder your dick gets until it's ready to bust. You look up at me begging for release. But will I allow you to cum? Or will I tell you to blow that load so fucking hard it makes you pass out right here on my bed? I guess there is only one way you are going to find out…
You know what to do baby… pick up that phone and remind yourself of why you love calling this mistress for BDSM phone sex. And I'll remind you of why i'm your favorite sexy, seductive, stern and strick mistress who makes you cum like no other…And in the end no one will inflict the kind of pain like I will on your tight fucking slutty ass….
Call 1-888-8-FREAKY and ask for Sierra for BDSM phone sex
AIM: SinfulSxySierra
Yahoo: SinfulSexxxySierra