I think every man should love a nice, big, juicy ass on a woman. What is there to not like? She can fill out her jeans, pants, jeggings, leggings, dresses, shorts, and skirts. Her booty jiggles, shakes, and switches as she walks. Her ass looks even better on a small frame. Nice-sized breasts that are proportionate to her body weight, a small and toned waist that shows off her midriff which displays her pierced belly button, and thick thighs with legs for days make a PHAT ass woman a dime piece. Sir Mix-a-Lot's hit song "Baby Got Back," said it best, "…That when a girl walks in with an itty bitty waist and a round thing in your face, you get sprung…" Even I like to see a woman's fat ass in some tight jeans and I give her props. Who wants to have ass worship phone sex with me?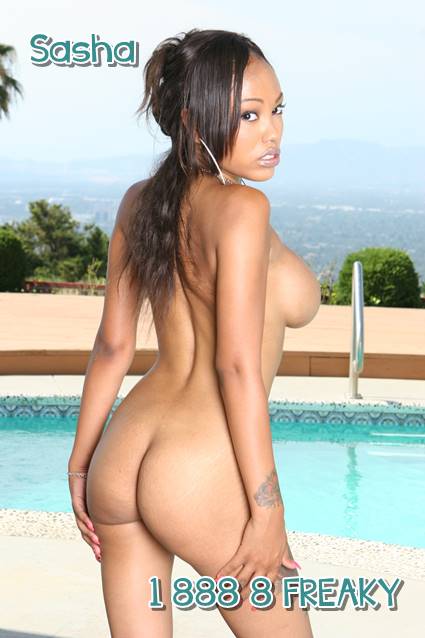 I want you to stare at my fat, juicy, thick, and tight ass as I walk across the room like I'm a runway model in my high heel stilettos. You can visualize that a stripper pole is in your room with just you and me in there. As I strip and dance for you, throw some Benjamins at me. I deserve to be spoiled for what my momma gave me. As I twerk for you, I want you to examine the curves of my body as you imagine yourself rubbing every inch of it with your hands. As you check out my body and work your eyes down to my booty, you lick your lips and reach down in your pants and underwear, and stroke that hard cock for me. During ass worship phone sex, I need you to tell me in that exact moment the things you want to do to my ass.
Rub, spank and paddle my ass with your hands, a belt, or paddle until both of my ass cheeks turn red as I yell out in pain and delight. My favorite position is doggystyle. Appreciate my plump ass from this view as it and my entire body tremble, with each thrust in and out of my wet, tight, fat pussy as I cum continuously. In our ass worship phone sex call, be my freaky, nasty, and naughty boy and lick and eat out my ass. You know you want to. Finger my tight asshole with two fingers while you go back to fucking my pussy hard and fast. Then put one of my butt plugs, beads, and ass vibrators in my ass. I can cum so much and hard from this. Next, give me what I deserve and stick your slick/lubricated hard cock in my fat butt. Give my asshole a hardcore anal pounding it has never had before.
Dial me at 1-888-8-FREAKY and ask for your PHAT ass queen, Sasha. If you have a nice, tight ass on your masculine body, don't get too surprised if I start to spank your hot ass with my hands in missionary.
Follow me on Twitter @SashaTAlize10
Email: SpicySashaGal2020@gmail.com