As you can see in my picture, I have on sneakers. Since I'm talking about shoe fetish phone sex today, I know the type of shoes I'm wearing is maybe not ideal for the average person but just go with me if you don't mind. A shoe fetish doesn't always pertain to a sexual context. You can love and collect shoes that are colorful, warm, comfortable, and supportive and it is a fetish. I admit that I, myself, have a shoe fetish. With the holiday season upon us, I have shopped for shoes quite recently and frequently. Sneakers, boots, high heels of all kinds/styles, bedroom shoes, and house slippers. I love shoes on me, on others, a store shelf, a display rack, a shoe holder, or even on the damn mannequin. It doesn't matter. Would it surprise you that one thing a man can do for my attention via his outfit is wear a clean pair of shoes?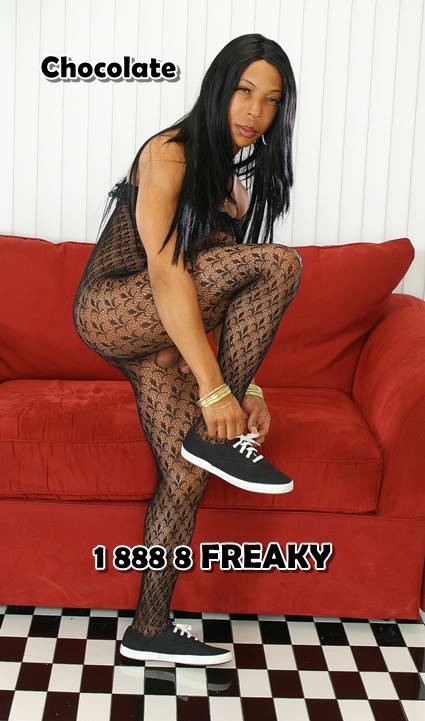 Expensive shoes aren't a must. Just keep them clean and polished. A man dressed nicely, looking, smelling, and feeling good but wearing dirty shoes, and my dick gets soft immediately. It's a total wrap for the night for me. Unless, you keep old/worn-out shoes for cleaning/household chores, construction/repairs, or painting, just throw them away. I'm a shemale but some women do agree with me. Men with a shoe plus a foot fetish gawk at women with open-toe high heels, flip flops, and sandals on their pretty, dainty manicured feet. I'm the same way except the feet don't have to be polished and I add men into the mix too. A guy with clear, smooth, and moisturized healthy feet who can rock Rainbows flip flops in the summer is so sexy and my type of man. In shoe fetish phone sex, I flip the script by massaging his feet, licking and sucking on his toes after I admire and tear off those shoes.
Maybe we can continue on with the story and see what happens next in our shoe fetish phone sex call. Just dial 1-888-8-FREAKY and ask for Chocolate.