I've always considered myself to be a rather shy, sweet girl, but this job has certainly started to bring out another side of me! My eyes were opened to this self-discovery during my first femdom call! I felt this fire run through my body, and I positively came to life! I LOVED being in charge and giving orders to the sad little sub man. But I also enjoyed watching him CRAVE MORE and BEG for it! That's when I realized bratty domme phone sex was hot as fuck, and my red hair seemed to scream at me, "OBVIOUSLY you were made for the job Moira!"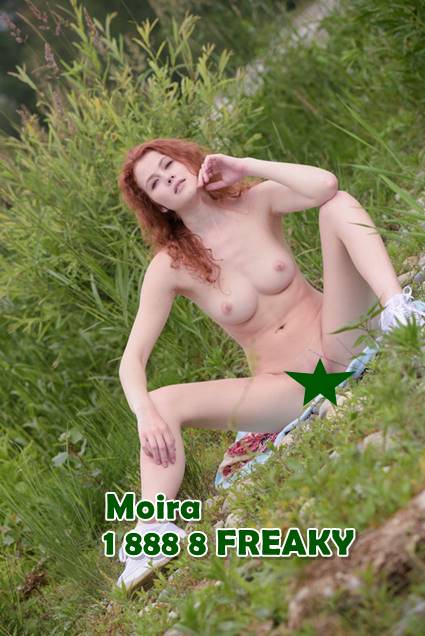 I admit I've always known to an extent I had it in me to be a brat. My parents have good jobs, good enough that my Mum chooses her own schedule and can homeschool me, which has allowed me to do pretty much whatever I want around the house. I get amazing Christmases and birthday parties. Yes, I do some chores to contribute but mostly to earn my art supplies. So, sure, I'm a wee spoiled. I like getting what I want. But who wouldn't???
And what I realize I want NOW are more bratty domme phone sex calls!!! Giving a man jerk off instructions or edging sessions where I am FULLY in control of WHEN he cums (and IF I let him, haha), not to mention being able to restrain him and then tease him, so that he has no hands to take over and finish the job…it's EUPHORIC! Better than drugs! A dose or two…or more…of cock and ball torture to really get him riled up–it's like it FEEDS MY SOUL! To see a man's face crumple in desperate yearning, hear his whiny moans, and watch him twist in all sorts of uncomfortable positions just to get a look up my skirt–It's such a high I think I've been transported to some other realm entirely!!!
Go ahead and think of a safe word, because unless you're jammy, you're going to need it! Email me your preferences first if you desire, IrishMaidenMoira@gmail.com, and I'll take them all into consideration! ; )