Hi guys!! You might already know me, but if you don't, let me take introduce myself. My name is Krystal and I am the chubby phone sex girl you've been looking for. I'm not like those skinny bitches who have so many hangups that your sexual experience with them is bound to be terrible. No, I'm all woman and I know how to please a man in ways that you wouldn't even believe.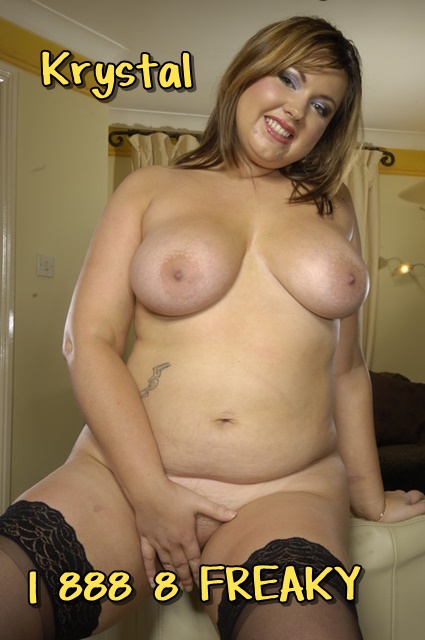 I think sitting on your face sounds like a fabulous idea, right? I know some of you guys out there love being smothered by a BBW. I will squeeze my thighs around your face while you grab hold of my fat ass. Stick your tongue out and wiggle it around until it's deep inside my wet pussy. You can even reach up and grab hold of my big titties and pinch my nipples nice and hard. I like it when you get a little bit rough with me.
You know that when you finally get to slide your cock inside this fat cunt that it's going to better than any pussy you've ever had, right? You'll get addicted so quickly and you'll need more and more and more of me. The word "enough" will not be in your vocabulary when it comes to me. I mean, where else can you find a hot chubby phone sex girl who has no limits and will do anything you desire? We are few and far between and you're lucky that you've found me. So now that we both know you're going to call me, what are you waiting for? The sooner you call me, the sooner I can make you feel really good.
Grab your phone and call this chubby phone sex girl now. Dial 1 888 8 FREAKY and ask for Krystal.