Remember that song from the 80's? Hurts so Good. That's because it does. I'm a pain slut, so I know what it's like to get so turned on by kinky pain that you actually cum from it! Such a great high, and the most intense orgasms I've ever had. When I'm in pain slut mode, I'll have multiple orgasms all the time. Which is why you need to call Beth for pain slut phone sex – because I know exactly what it's like to be in the mind and body of a total pain slut. Once someone starts to spank me, I get wet. If they keep on going, I'll be dripping, and if they still keep going, I will cum all over their lap. I can't help it. Pain is such a rush for me. Much better than bungee jumping or roller coasters!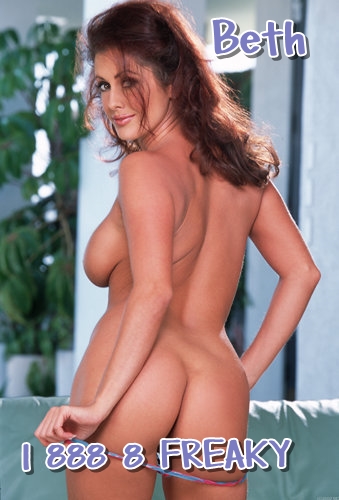 So why don't you call me for some pain slut phone sex? Before you dial the phone, make sure you have some toys nearby so I can tell you what to do to yourself to get off with an explosive pain orgasm. Hmm…let's see….have a paddle handy, and if you don't have one of those, a wooden spoon works great. Got nipple clamps? If not, clothespins work. Have a whole bunch of clothespins with you, in fact, since there are lots of places we can place them. Crops, cock clamps, cords, chopsticks and rubber bands, a wartenberg wheel, rubber spatulas, and if you have a chastity cage, get that on so I can tease you into a painful hard on.
By the way, I bite. And chew. You know you like that. So do I.
If you get off on pain and you're looking for someone who understands what it's about, and someone who can help you use that to blast off like a rocket ship, then call me for pain slut phone sex. We can push our limits and get off together!
Call 1 888 8 FREAKY and ask for Beth for pain slut phone sex!
AIM: Beth_cumsxxx