I love having my tight pussy filled to the brim with loads of hot cum. I guess that's why creampie phone sex appeals to me so much. It's so much fun to hear all the fantasies you have that end with a hot load being shot deep inside me. Maybe you are a cuckold and you want to hear about a big black cock shooting a load deep inside me. Do you like seeing my pussy all stretched out and gaping? You can't wait for the cum to start dripping out of me, can you? You should get down between my legs and lick that up for me. I bet you can even make me cum again with your tongue while I tell you all about how black cock is better than yours any day.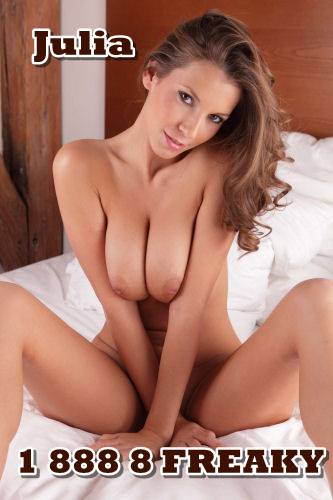 And you know what would be even hotter than just having my pussy filled up with a black creampie? What if he got me pregnant? Would it humiliate you knowing that your girl got knocked up by a black dick while you watched? And what about how you'd feel when everyone sees that I give birth to a baby that is clearly not yours? I wonder what you will say to them when they question you about it? I think I'll make you tell them the truth – that you aren't good enough to please me and that I like to be fucked by big black cocks while you watch. I might even make you tell them how you like to lick their cum directly from my pussy. That should be a super fun conversation at gatherings.
Are you ready for some creampie phone sex now? I'm ready and waiting. All you have to do is pick up your phone now and call me. Tell me you're inferior and you want to hear about how I love black cock. Call 1 888 8 FREAKY and ask to talk to Julia.