So many of you idiots jerk off and make yourselves cum so fast that there's no way you have any kind of stamina. And without stamina, you will never be able to please a woman. What you need to do is call me for jerk off instructions and I'll teach you how to improve your ability to fuck a woman for a while and hold your orgasm back until after she cums. Trust me, when you make a woman happy in the bedroom, you will be even happier. Also, I think you're going to be excited when you feel your first orgasm after I teach you to edge yourself and hold back from cumming too soon. It'll be stronger and it'll feel so much better. You have to learn to keep your eye on the prize and not just rush into that instant gratification we have all become accustomed to.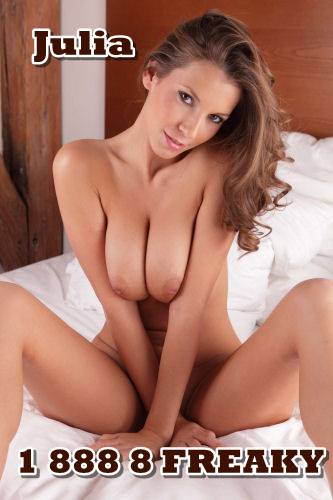 Do you think you'll be able to trust me to lead you to the best orgasms you've ever had? Because that's what you'll get when you call me for jerk off instructions. Make sure you leave any control issues you have at the door when you call me. I want to have total control of your cock and your orgasm. All I need from you is your dick and a submissive attitude. You've got to be willing to do what I say, when I say it. That's the only way this is going to work. If you give me that, I can give you an orgasm that will make your toes curl. It might take a few tries since you're used to cumming so quickly, but don't worry. I can definitely get you there.
Come on! Let's have some fun! Pick up your phone and give Julia a call for jerk off instructions at 1 888 8 FREAKY.